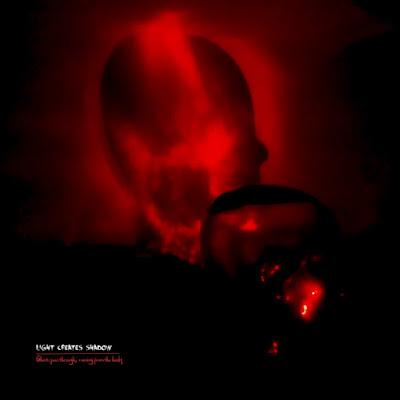 Light Creates Shadow (fantastic name) hail from Portland consisting of Marc Changnon (Vocals/Guitar), Jered Johnson (Bass). And Adam Young (Drums).They describe their music as Progressive/Artistic/Post Metal. Coupled with the album title Ghosts pass through, running from the Body. It's clear before hearing a note of this third album that it's not a Saturday night party album. Recorded and tracked in two days at Stone Gossard's Studio it is equal parts ragged and heavy but the level of playing and the interaction between the three musicians holds it together wonderfully, with instruments bleeding in to each other's space without diluting the impact.
The first song Sensed Presence made me initially think of Tool but as it progressed, I heard hints of Fugazi, Deftones and the Vocals of Marcus De Pasquale (Witchskull). Chasngon, the bands songwriter states to record where his teenage heroes Soundgarden recorded is an honour and the grunge influence is there in some of the riffs and quiet/loud tropes of the Seattle sound, none more so than in third track Dark Triad. This is not a criticism but an acknowledgement of how well they have blended their influences in to their own cauldron of sound.
The centre piece of the album is ten-minute Casual horizon that amalgamates all these ideas as is an epic piece of music that will no doubt, when played live achieve the bands ambition of transcending mere performance and join in union with their audience in a collective experience. If that all sounds a bit new age hippy so what? It works for me a hell of a lot more than "I wanna rock 'n' Roll all night party all night long" cliches.
It uses the metaphor of Ghosts not in the scene of the supernatural but the ghosts that prevent facing Abuse/Trauma and the hoped-for healing. It is a complex album that will take several passes to reveal its different moods and movements. It asks the listener to dig deep and see yourself and at the very least attempt to reach for self-actualisation. It's a similar path that Yob are exploring. Asking Questions and seeking answers. As I mentioned this isn't your run of the mill party and beers album.
Putting aside the themes of the album musically its extremely accomplished.There are prog elements, but these songs feel like anthems rather than look how smart we are prog wank with endless solos. Taken as a whole, the atmosphere is one of catharsis and release. It ebbs and flows, it is heavy enough and articulate enough to maybe pull of that rare trick of appealing to two audiences. The alt. rock brigade who wants music to challenge them and have something to say the rock crowd who want riffs and heaviness.
If that is what they set out to do (and why wouldn't they?) Job done. Pretty much a triumph of an album.
-Bobo Coen