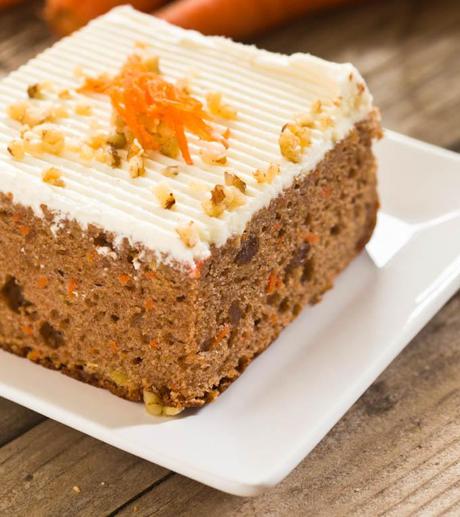 I've never met a carrot cake I didn't like.
The husband has never met a cake he didn't like.
I'd largely agree with him

But there's just something about carrot cake, zucchini bread, pumpkin bread, and all veggie/squash baked goods that just has such a wonderful savory-sweet-but-mostly-sweet quality to it.
The aromas of nutmeg, vanilla, and cinnamon bring back memories of the holidays and family gatherings. And the icing on the cake makes you feel like it's your birthday when you're eating it.
It's just all-around goodness. And with this version of carrot cake, you can have your cake and eat it too – completely guilt-free.
Start with a heaping pile of bright, tender, shredded carrots. Add sweetness from high-quality honey that tastes like it came straight from the beehive, and whole wheat pastry flour + walnuts for that rich, nutty flavor. Crushed pineapple is the secret ingredient, adding a ton of moistness. And finally the icing, made with lower fat cream cheese – which, if you're not the icing type, could be subbed out for just a dusting of powdered sugar over the top of the cake.
Either way, you end up with a delicious satisfying treat, best enjoyed with a cup of hot tea on a lazy afternoon.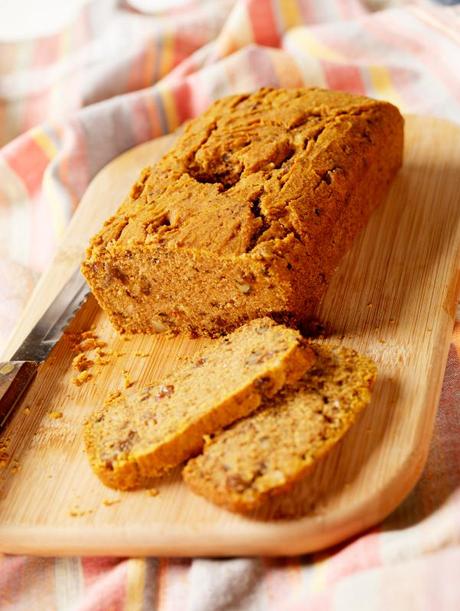 Light and Moist Carrot Cake with Cream Cheese Frosting
The Ingredients - Cake
2 cups firmly packed finely grated carrots
Juice of 1 large orange
2 teaspoons vanilla extract
1/4 cup light olive oil
1 cup honey, liquefied in microwave (30 seconds)
1/2 cup crushed or chopped pineapple, drained
1 cup unbleached white flour
1 1/2 cups whole-wheat pastry flour
2 teaspoons baking soda
1 teaspoon cinnamon
1/2 teaspoon ground allspice
3/4 cup walnuts, chopped
The Ingredients – Icing
4 oz reduced fat cream cheese
1/2 cup powdered sugar
1/2 tsp vanilla extract
1/2 tsp orange zest (optional)
The Directions
Step 1: Preheat oven to 350°F.
Step 2: In a mixing bowl, stir together the carrots, orange juice, vanilla, olive oil, honey, and pineapple until well blended.
Step 3: In another bowl, stir together the flours, baking soda, and spices. Mix in the walnuts.
Step 4: Blend the dry ingredients into the carrot mixture, stirring until just mixed.
Step 5: Pour the batter into a nonstick 8-inch-square baking pan and bake for 45-60 minutes until a knife inserted in the center comes out clean. Remove from oven, let cool slightly, and remove from pan.
Step 6: To make the icing, mix the cream cheese, powdered sugar, vanilla extract and orange zest together. Spread over the cake. Alternatively, you can just dust the cake with powdered sugar and serve.
I like cutting the carrot cake loaf into small squares, because each piece is still pretty substantial. If you cut the cake into 18 squares, each piece will have about 170 calories, 4.5g fat, and 2g fiber.
Happy baking!