The recent COVID-19 outbreak has had great effects on people all over the world. Schools are moving their education online, cleansing supplies are running out in stores, and businesses are struggling as the economy is plummeting. For junior tennis players, the consequences are even greater.
As a result of the pandemic, indoor clubs all around the country have closed down, and now public parks are shut down as well. Right now, if the USTA tournaments didn't get cancelled, I would be flying to Kentucky to play a national tournament. Instead, I'm cooped up in my house, writing this article (don't get the wrong idea, I'm glad I can share my ideas with you guys). Today marks the end of my first week of online school and a quarantined life, and it seems like there's a long way to go. But the truth is, there are many things you can do even in your house to keep working on your game and make this time of isolation more productive.
Stretching and Meditation
Through the tiresome days of a junior tennis player's life, it's often hard to spend some time on personal wellness. I've experienced this myself, and couldn't help but feel like a robot going through a cycle: wake up, go to school, go to tennis, eat dinner, do homework, go to sleep. Now, being quarantined, I've found that I have so much extra time, being completely done with school work and fitness latest by 5pm. So, I've spent more time working on my flexibility and made sure to stretch every part of my body, from my triceps to my quadriceps to my calves. This helps me stay in touch with my body and will make it easier to prevent injuries when the tournament schedule gets back on track. To take this even further, spend some time simply sitting criss-cross on the ground with straight posture, and breathe in and out for 5 seconds each. You'll find yourself at more peace with yourself and your mind.
Watching and Observing Tennis
I am aware that there are no tennis tournaments going on right now. Have you heard of YouTube? There are so many places you can find highlights from past tennis matches or even watch them from beginning to end. Tennis Channel has replays of matches from many tournaments in the past. Or maybe this is a good time to look back at the important matches you recorded that you knew you were going to miss, like a grand slam final. No matter what you choose, watching tennis can be just as useful as playing tennis, since you can study the strategies and habits of pro players to implement in your own game. You can carefully examine tactics with more depth as you aren't under the stress a tennis match may present. Perhaps you can review videos of yourself that you may have recorded using any system technology has provided with us today, and observe what you think you need to improve on. Then, do small drills at home to help you begin working on them, like reaction drills to strengthen your volleys or footwork drills to make you more agile on the court. Sometimes, the phrase "watch and learn" can be more than words used just by overconfident people.
Simple Exercising
This is probably the one activity I expect most junior tennis players to be doing already. Working out doesn't need a gym, large space, or even weights. If you have them available to you, that's great, and you should be utilizing them to their full extent. Otherwise, there are many simple exercises you can do to keep up your fitness. For instance, push-ups and sit-ups can help your upper body and core strength, for which you only need yourself and a few feet around you. If you already can do 30 push-ups or sit-ups, do 40. Then 50. See how many one-handed push-ups you can do. Compare the strength of your dominant hand to your non-dominant hand. The possibilities are endless. For lower body strength, wall-sits are a really useful exercise that require really only what the term says - a wall. They require your hamstrings and calves to have a 90 degree angle between them, your shoulders and back to be flat against a wall, and your arms to be crossed over your shoulders, straight out in front of you, or flat by your sides and against the wall. This exercise can be performed for how much ever time desired. Squats and lunges are also good for the lower body, just like wall sits, and don't require equipment. If you do want to make any of these exercises harder for you without extra weight, it may be a good idea to try jumping squats, jumping lunges, or push-ups with claps and/or increase your reps. Just remember that you probably have more left in the tank than you think.
Shadow Swings
Throughout my years of junior tennis, one thing that I've found to be very useful is shadow swinging. In the clinics, when we were doing group drills, the coaches would have us imitate the movement and swing of the players doing the drill to keep us active while waiting and help us work on our technique. I remember in one of the first clubs I attended, in the high performance clinic, we would spend 15 minutes working on the different stages of our ground stroke swings. We would turn and move out to the ball, remain there for a few minutes as they corrected everyone, drop our rackets, remain there for a few minutes, and so on. Then, we would put it all together. This helped me understand the importance of different parts of the swing and how to make my strokes more efficient. It shows how effective repetition and paying attention to details can be in any sport. Such a time where we may not have a tennis court, a place to hit the ball, and an opponent is perfect to work on honing your swing.
Studying the Mental Game
It is often said that tennis is a mental sport. So why not take this time to strengthen your mental abilities? There are various books by coaches, professionals, and psychologists that dig deep into the thoughts of athletes during various situations. They can include focusing during big moments, preparing before matches, and having the right mindset after losing some. Some great books that I have read or have had recommended to me by famous athletes include by Rafael Nadal and John Carlin, by Alex Morgan, and by Andre Agassi. Learn from what these athletes have experienced first hand and maybe write down what you find for future reference. You never know when it may be exactly what you're looking for.
While not everyone may be finding that they have more time to do extra activities like I am, I think it may be a good idea to consider these suggestions for the well-being of your tennis and your health. Staying active can help you feel more productive and will give you a great advantage once the world gets back to normal. If you're struggling to make use of this time and find yourself spending hours on social media or watching TV, I would recommend making a to-do list to go through every day to keep yourself going. This way, you can try implementing new habits into your daily routine and get ahead of the game. Make sure that while you're trying them, you're still staying safe, eating healthy, and washing your hands!
SUBSCRIBE TO OUR AWESOMENESS
and never miss a post, announcement or giveaway!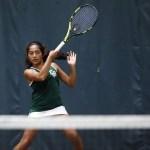 Naomi Karki
I have been playing tennis since I was 4 years old, and will be turning 15 soon. I play tennis at a national level and travel all over the country, learning the best ways to adapt to different circumstances along the way. My dad is a PTR certified coach, and with my mom he runs a non-profit tennis organization in New Jersey called East Brunswick Youth Tennis. My brother is also a national tennis player so we all have a lot of knowledge and experience in athlete nutrition, fitness, and drills.