Advertisements and promotional campaigns are something that most, if not all, consider a big irritant. Whether it's while watching TV, or browsing internet, advertisements are seldom welcome. Sometimes though, there come along some advertisements that prove themselves to be far more interesting than the TV show. Actually, by the way the quality of Indian TV shows is falling, that's not too hard to achieve, I suppose. But I digress.
Anyway, this blog post is not about any TV commercial. It's about a brand new promotional campaign launched by LG Electronics. It's called 'Life's Good,' and it's fun! And if you are a girl, trust me, this one is going to flatter you, as sweetly as you ever desired. Just keep yourself from regretting, if you can, that this is only a video.
Yeah, so now you got the hint. This blog post post is about LG's latest promotional campaign using which anyone can get himself or herself (or a loved one!) featured in a sweet and merry video.
The 'Life's Good' campaign was initiated by LG Electronics, the South Korean multinational electronics company, to engage and interact consumers in a merry and interactive way. Here's what's this campaign is all about:
1. Create Personalized video: The campaign uses cutting – edge online technology to enable people to create a personalized music video featuring their own names and pictures. Of course, one can always use name and picture of a special friend too to create a sweet and flattering video for the special one.
2. Merry and Fun video and song: There is only one video and song in which people can get their picture and name featured. But I found the video and song really nice. The song used in the campaign is from The Moffatts, a popular Canadian rock band in the 90's.
It would have been better though if there had been a choice of videos delivering different messages. And I do feel that the video included is going to please girls, but might not be able to make the guys to 'feel good.' I mean, not likely all guys are going to like seeing another guy dancing for them! There should have been a choice at least of videos targeting different genders.
3. Ease of Use: Using the website and the video making tool is quite easy. Just visite the Life's Good website, upload your photo, write down your name (Hint: better use only your first name), and click on Play. One thing that irked me was the occassional unresponsiveness of the Play button. I tried the video several times, with different photographs, and at several occasions, hitting the Play did not do anything. Sometimes I had to hit Play two, three times before the video started loading.
4. Sharing: The websites offers several sharing options for the video. These sharing options are given in the form of big buttons at the bottom of the screen. I thought using this, I could share my video directly on Facebook and Twitter. However, all that the was posted on Facebook and Twitter was a link to the promotion's Facebook app where the video can also be created. There's a Download link given too, but despite several tries, I was not able to download the video. It also provides html code for embedding on blogs or websites. However, the only option that I was able to use was 'copy the url.' And that's what I posted on Facebook and Twitter, and that's what's given at the bottom of this post too. Do watch!
5. Min-woo Hwang: Making the video even more special is Min-woo Hwang, or 'Little Psy,' the seven year old kid who appeared in the hugely popular 'Gangnam Style' video.
According to LG, 'The campaign is all set to expand to nearly 40 countries this year. It has successfully garnered the attention around the globe and has been recognized by the Favorite Website Awards with a coveted Mobile of the Day Award.'  Talking about the capaign, Mr. Sanjay Chitkara, Head- Corporate Marketing, LG India said, "We are very excited to launch "Life's Good" our global online campaign as it is aimed at making people feel special. We at LG are committed to touch people's life by offering them with the latest technology and products from our Home Appliances and Mobile category. This campaign reiterates a simple philosophy of Life's Good with LG."
According to LG, the Life's Good Campaign aims to bring happiness and cheerfulness to people and make them feel special. Well, it achieved its aim with me. Gave me a big smile, that's still lingering.
So go ahead, and give it a try. It's free, and a lot of fun. Just visit: http://lifesgoodlg.com/
And oh, here's the video featuring me!
Life's Good – Featuring Jyoti
********
Jyoti Arora
Author of Dream's Sake, Samsung Mobiler 
www.jyotiarora.com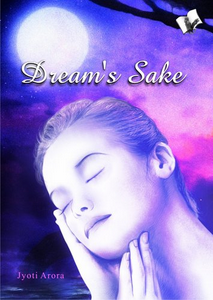 DREAM'S SAKE