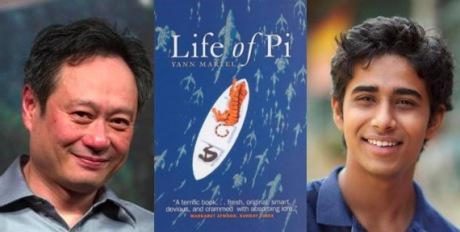 Image from screenrant.com
What once started as a bestselling novel will now grace the screens of theaters all over the world. Life of Pi, written by Yann Martel, is expected to hit the big screen this November, making for a highly anticipated adaptation and a finally appeased fan base.
Life of Pi, which hit bookshelves in late 2001, is the story of protagonist "Pi" and his journey to self-discovery. Set predominantly in a boat on the Pacific Ocean, the book follows "Pi" as he attempts to survive 227 days of being stranded after a shipwreck. Full of wild animals, bite-your-nail moments, and more than a few surprises, Martel's novel is sure to make a thrilling movie.  The film, now in post-production, has been directed by Ang Lee, who has also directed works such as Brokeback Mountain andCrouching Tiger, Hidden Dragon. The trailer has just recently been released and contains teasers of amazing cinematography and beautiful portrayals, trademarks of Lee and his movie-making skills. Also apart of the film are actors Tobey Maguire, Irrfan Khan, and Gérard Depardieu.
The movie, which is already causing a stir, comes out November 21st of this year, and will be competing with films such as The Hobbit: An Unexpected Journey and Breaking Dawn Part 2 for the number one spot of the most popular book-to-film adaptation this year.