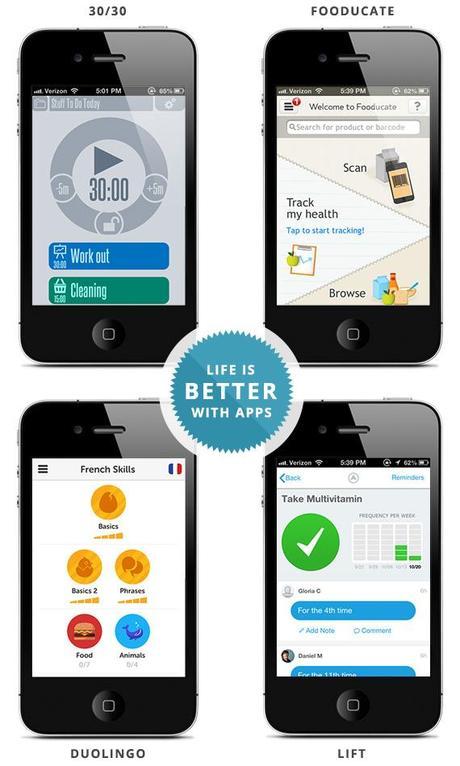 Here are a few iPhone apps I've been glued to lately, and here's hoping that you'll find them useful too!
1. The perfectionist in me can sometimes make me pick, pick, pick at certain things until what should be a simple task takes forever and a day. To combat this, I've been using 30/30, which allows me to create to-do lists with allotted times for each item. When the alarm goes off, I have to move onto the next thing, and working against the clock makes me dawdle less.
2. Poring over food labels at the grocery store isn't my strong suit, so Fooducate has been an incredible tool to have on hand. All you have to do is scan the barcode of a product to see a letter grade based on how healthy the ingredients are, along with other dietary tidbits. Goodbye, weird additives and flavorings!
3. I recently found my old French notebook from high school and was disheartened to find that I couldn't read half of it. Damn you, brain! Duolingo is easing me back into le français and makes it really fun to boot. My French teacher would be so proud!
4. The basis behind Lift is that you change your life by changing your habits, and you create habits by doing something each day. This app lets you create a list of daily goals you want to work towards, and it tracks your accomplishments as you go. If you get an unnatural amount of satisfaction from pushing giant check mark buttons like I do, then you'll really like this one.