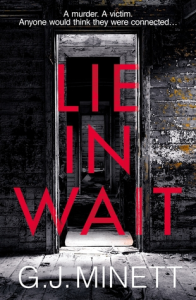 Crime Thriller
5*s
There are times when I'm reading that I just know that I'm in a pair of safe hands and this is exactly what I felt when I opened the first page of Lie In Wait. That despite not really knowing at the start what this book was going to be about, I could immediately tell though, that this was a different type of book to this author's debut novel The Hidden Legacy, despite sharing some of the same themes.
The book opens with Owen, our protagonist, clearly a young man who struggles with the social side of life, but is exceptionally good with numbers. Owen has met up with one of his fellow students from the days before he was removed from secondary school to be home-schooled by his mother. As I said, luckily I felt I was in a pair of safe hands because this tale doesn't go in the same direction as you might expect from such a character. Yes the book is about Owen but there is a whole cast of others that all have pasts and presents that are full of color and surprises.
Without giving too much away Owen is hired by his old schoolmate Abi to redesign her garden and it is Abi who is the main link to the web of characters that flesh out the storyline. Abi is married to her childhood sweetheart, Callum who is a highly professional networker, hence the ready funds to use on a fancy garden. But there is a twist, Callum and Owen have their own history and the discord runs deep. Despite being successful in his own right Callum appears slightly put out in the change in Owen in the intervening years now he is a tall, well-built owner of his own gardening business.
At its heart there is a straightforward mystery, someone is dead and the police are looking to find out who caused the death. Surrounding this obvious crime there are many smaller crimes being committed, with some dastardly characters some with good intentions, many not so. The reader meets diverse characters such as security guards in the local shopping centre, policemen and friends of the main characters. What you can be sure of is that all of these characters matter to the plot in one way or another, no pointless filling for this author! Each of the chapters is headed with the name of the character narrating and the time period that it covers – yes it is one of those books that keep you on your toes switching not only character but time period. Thankfully the author has managed to give each of the narrators a very distinctive voice so despite the complexity of construction, following the plot as a reader is easy.
The switch in characters definitely kept me hooked particularly when the author tantalisingly ends a chapter with a revelation that you just know is going to have massive consequences and then the time period switches away from that particular cliff-hanger to provide a separate clue or maybe a red-herring to excite you. But what makes this novel so particularly clever, is that yet again G.J. Minett has produced a book that isn't all action, rather it is has the essence of a psychological thriller in the purest sense. Not everything is spelt out for the reader but as information is revealed be it directly or 'between the lines' the reader is invited to think about the background to some of the characters and really evaluate why they behave the way they do.
It is important to me to have a sense of not only the time and the characters but of place. This book is set around Chichester, not a place I've been, but I didn't for a moment doubt that this place exists; with its fancy houses and back alleys, the busy road and its retail park as well as the cinema where Owen treats himself to a solitary film and the fish and chip shop, where he buys his treat for afterwards. is all evocatively described I can believe I've visited, more than once.
I'll be honest there are some parts of the plot which seemed to stretch my credulity, if not to the limit, at least to 'ooh that's a bit tight' point, but by this time I was invested in the story, I wanted to know what happened because like the characters or despise them, they had all become important to me. After all this is what good storytelling is all about!
All in all this was a deeply satisfying read which has real depth to it which despite a complex plot which has been thought out to the nth degree it is an easy and enjoyable read. As an aside the construction of this novel would lend itself very nicely for TV, I would watch it even now I know what happens at the end!!
I received an advance copy of this book from the publishers Bonnier Zaffre, and this review is my unbiased thanks to them and the author for a superb read. Lie In Wait will be published in eBook format on 25 August 2016 with the paperback coming out in November 2016.
Published UK eBook: 25 August 2016
Publisher: Bonnier Zaffre
No of Pages: 400
Genre: Crime Thriller
Amazon UK
Amazon US