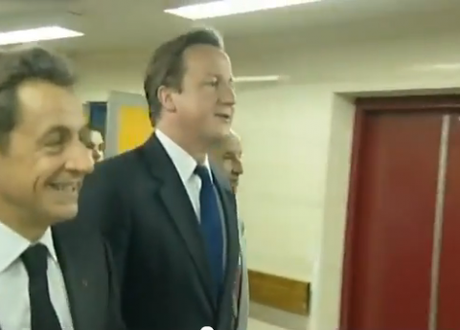 Nicolas Sarkozy and David Cameron in Libya. Photocredit: http://news.sky.com/home/politics/article/16093098
Now that Colonel Muammar Gaddafi has gone, who is it that can claim the credit for the success of the intervention in Libya? Is it British Prime Minister David Cameron, French President Nicolas Sarkozy, or American President Barack Obama? Commentators are, of course, divided on national lines (mostly).
It's a (qualified) triumph for the Yanks. Americans did not expect Barack Obama to gallop "all over the globe" running after "bad guys", said Eleanor Clift and Daniel Stone in The Daily Beast. The bets he's made on "national security" have "paid off." Now Gaddafi's death has vindicated his decision to intervene in Libya. Obama has "got" Osama, Gaddafi and twelve of the top sixteen al-Qaeda leaders —more "bad guys" than Reagan or Bush. This shows him "surprisingly decisive" on security issues — which is strange, since he's been indecisive on the economy. With his stance, Obama has "neutered" the opposition who try to paint him as another Jimmy Carter. And yet — Obama isn't getting the credit he deserves — even killing Osama bin Laden didn't win him any gains in the polls (hardly). The trouble is that he's not going to win or lose on foreign matters — it's the economy that will bring him down, and though these successes may not really help him in 2012 when the election comes, they've certainly patched up a few holes.
Apocalypse? No. It was indeed the right thing to do, said David Ignatius on The Washington Post. The President's "cautious, back-seat approach" in Libya meant that Gaddafi didn't get the "apocalyptic confrontation" with the US that he desperately wanted. It was NATO that he was up against. Obama, most importanly, was "patient" even when there were howls for greater intervention. All in all, it's fair to say that Obama's stance "worked out pretty well."
Don't get puffed up. It's all part of "the pernicious cycle of neocolonial self-justification", said Mary Dejevsky in an incisive piece on The Independent. Cameron and Sarkozy are adding fire to the notion that intervention can be good. Just because the result was achieved doesn't make the intervention right, and nor should it be used for justifying intervention elsewhere. It's fair to say that Libya is "the non-Iraq", and it did show that we've learned some lessons from that disastrous intervention. But the affair has cost the UK billions during a time of austerity, and we should be wary of believing that the military power of  "two medium-sized former" colonialist countries reaches further than it does.
It's a (qualified) triumph for the Brits and the French. On the other hand, Jon Craig on Sky News said that Cameron's gamble in spearheading the war against Gaddafi looks "like a political masterstroke." His response to Gaddafi's death was "brief, measured and modest" without a shred of "gloating." He remembered the victims, and was proud of Britain's role. Obama was "unenthusiastic, dithering and unco-operative" when Cameron tried to persuade him to join in; instead, he formed a "powerful and ultimately hugely successful alliance" with Sarkozy. Obama shouldn't claim any of the credit — it's the Brits and the French who have done a good job. And without any British casualties too. For the PM, it must be a "welcome relief." Now his attention can go to other domestic matters.