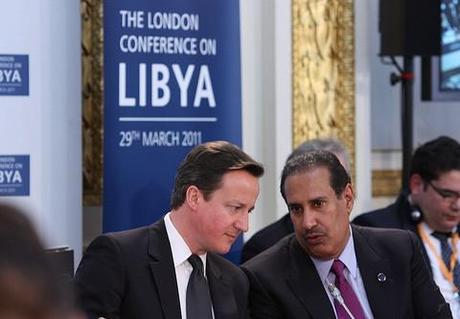 David Cameron at Libya talks in March. What does the future hold now? Photocredit Foreign and Commonwealth Office http://www.flickr.com/photos/foreignoffice/5571667738/sizes/m/in/photostream/
Is this the era of new colonialism? Is the conflict in Libya over yet? British Prime Minister David Cameron, and French President Nicolas Sarkozy visited the North African country on Thursday. Comparisons with Tony Blair after Kosovo and George W Bush after Iraq are being mooted; but the leaders are downplaying any sense of triumphalism, instead making it clear that the impetus came largely from the Libyan people. Now, as rebel forces are reported to be launching an attack on the loyalists and to have entered the stronghold of Sirte (Gaddafi's birthplace), it seems that the gamble in Libya might have paid off.
France and Britain were the two countries that led the bombing campaign against Colonel Muammar Gaddafi's forces, aiding the rebel forces in their fight.  The former dictator is still at large, however, and his loyal fighters still skirmish in a few towns. In Benghazi, according to Richard Spencer in The Daily Telegraph, babies are being named "Sarkozy", whilst crowds chanted "Thank you Cam-Ron."
Cameron and Sarkozy were received in Tripoli and Benghazi, where, according to The Financial Times, they were given a hero's welcome, with flag-waving and cheers. But there's still much to do.
"This is the moment where we see the Arab Spring become the Arab Summer and we see democracy advance in other countries, as well. This is not finished, this is not done, this is not over. There are still parts of Libya under Gaddafi's control," said David Cameron, quoted in The Financial Times.