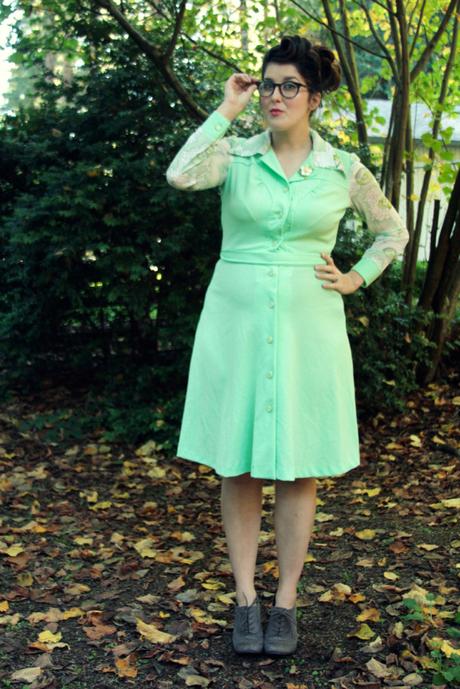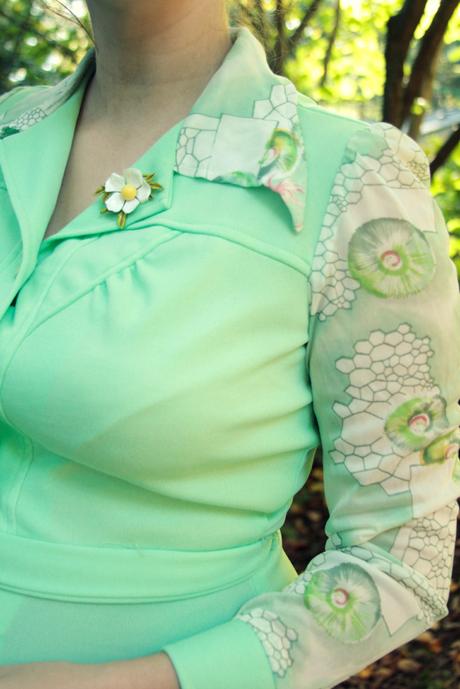 Every once in a while when modeling items for my shop, I put on a garment and realize I can't bear to part with it. That's the danger of having items that fit you when you mean to sell them. But when I put on this vintage dress — which I didn't try on when I found it (I generally try things to see how they look on, even if they're too small or too large) — I decided that it was going to become a permanent part of my wardrobe. The color is gorgeous, the sleeves are so unique, and it buttons which means I can wear it while breastfeeding!
Plus, I mean, it matches my brooch perfectly so obviously I have to keep it.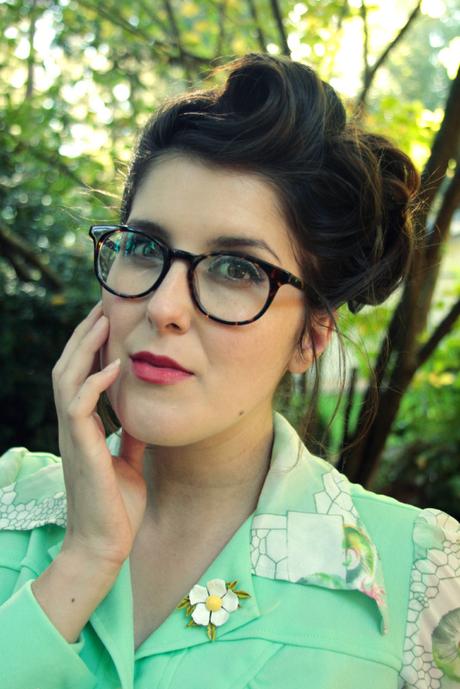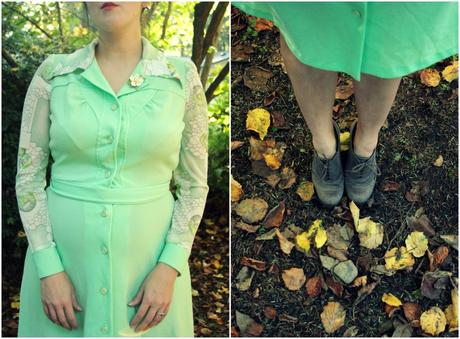 And it's funny that I would have chosen to keep this one when I also have a polka dot + stripe circle skirt pocketed dress that is in the 80's does 50's style. With my love of twirly skirts and polka dots, I would have thought I'd keep that one instead. And in fact, when I pulled that one off the rack and bought it prior to trying it on, I thought I would keep it, too. But it's got a wide sailor-esque collar that, while gorgeous, isn't quite my thing. Plus, my husband gave it a major side-eye.
Perhaps I also really love this dress because it makes me feel like a retro librarian, and I've always had an extremely romanticized idea of what being a librarian is like, with my love for books and sorting.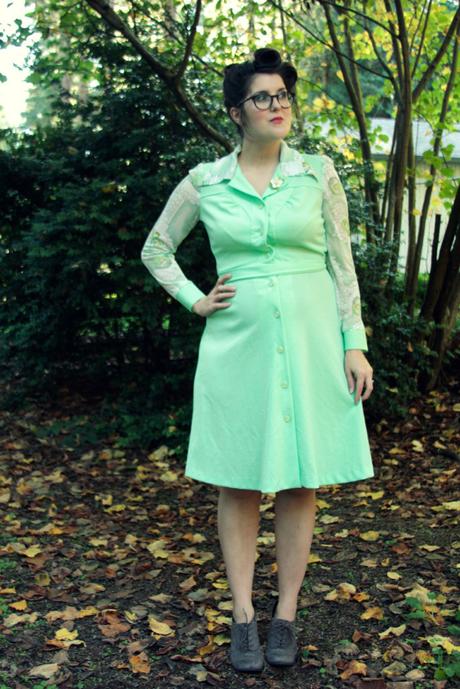 Dress and brooch, vintage/thrifted | heels, thrifted | glasses, c/o Firmoo
I think behind it all, the reason I keep most clothes is the story they tell. I'm realizing that's a very large part of why I love certain garments even if they don't match my style (though this dress is a perfect match for those five words I mentioned earlier)
I hope you're all having a wonderful week! Keep an eye on my Etsy shop – I am hoping to do a shop update here on the blog soon, but in the meantime I've been adding some really amazing vintage pieces, and one has already sold. I can't wait to get the ten dresses I found listed! They are truly great!
Happy Wednesday!

Bloglovin|Facebook|Twitter|Pinterest|Instagram|Fiction Press|Etsy|Photography