The Eastern sages have developed a science of superimposition called Nyasa Vidya, where they imagine themselves permeating the whole earth or the cosmos. They meditate the North Pole in their head centre, the South Pole in their base centre, the equator in their solar plexus and the Himalayas in their heart. They inwardly study the currents of magnetism that flow around the earth and use them to purify the centres along their spine and to free the thoughts from personal influences.
Likewise, correspondences can also be established between the parts of the body and the planets, the sun signs or the planes of consciousness. When our orientation to a larger system is complete, the energies of our system are rearranged in accordance with the larger system. Disorder is brought back to order; thereby, one radiates and remains magnetic.
To depict these dimensions, I placed the silhouette of a human body over an image of the globe. I created the radiance of the inner centres by using photos of aquamarine gemstones and of a lotus. You see the lines of the magnetic field as the human and the planetary aura. The central axis of the spine is prolonged via the axis of the earth to a galactic axis. For visualising the seven planes of consciousness, I transformed and multiplied extracts from a NASA photo of the Sombrero galaxy.
See more pictures on the site with my paintings. If you want to print the image, you can download the file in medium and high resolution format.
The different zodiacal signs are clustered in groups – you can see here all my Libra paintings.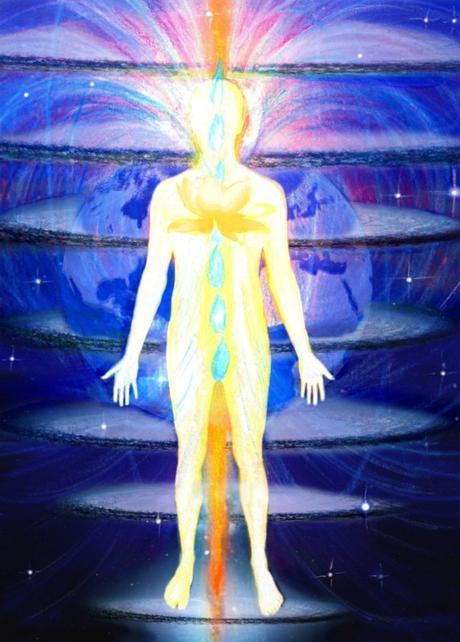 19 June 2017, pencils and photo work