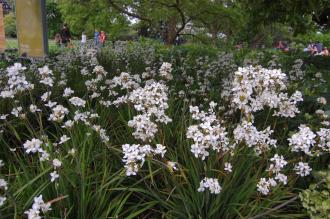 Libertia grandiflora (22/05/2016, Kew Gardens, London)
Position: Full sun
Flowering period: Late spring to early summer
Soil: Moist, well drained
Eventual Height: 90cm
Eventual Spread: 60cm
Hardiness: 8a, 8b, 9a, 9b, 10a, 10b, 11
Family: Iridaceae
Sub Family: Iridoideae
Libertia grandiflora is an evergreen herbaceous perennial with a clump forming habit. Its mid to dark green leathery leaves are sword shaped with entire margins, up to 50cm long and 15mm broad. Its white flowers are bowl shaped, up to 35mm across and appear in clusters on erect stems above its leaves. Its fruit is an oblong capsule. Its roots are fleshy rhizomes.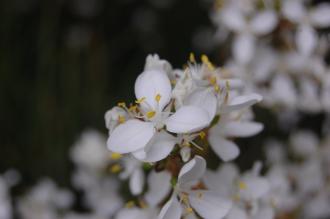 Libertia grandiflora Flower (22/05/2016, Kew Gardens, London)
Libertia grandiflora, commonly known as New Zealand Satin Flower, New Zealand Iris, Tukauki or Milolkoi, is native to New Zealand. Libertia grandiflora is synonymous with Libertia chilensis.
The etymological root of the binomial name Libertia is named for Marie-Anne Libert (1782–1865) a Belgian botanist. Grandiflora is derived from the Latin grandis meaning 'large' and flora meaning 'flower'.
The landscape architect may find Libertia grandiflora useful as a tough evergreen ground cover plant. This plant prefers a sheltered position.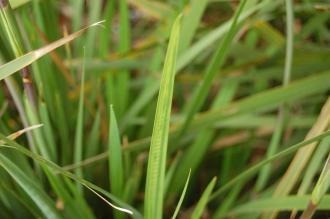 Libertia grandiflora Leaf (22/05/2016, Kew Gardens, London)
Ecologically, Libertia grandiflora flowers are attractive to pollinating insects.
The Royal Horticultural Society have given Libertia grandiflora their prestigious Award of Garden Merit in 1998.
Libertia grandiflora prefers moist, fertile, well-drained soils. It tolerates most pH of soil.
Libertia grandiflora requires little maintenance. Large clumps may be divided in spring, it may take a couple of years to recover.


Landscape Architecture