LG V30+ is the latest flagship smartphone by LG. After a long wait and much anticipation, it is finally available in India. Being a flagship device, it carries top of the line specifications and features. But you know what I like the best about V30 Plus? Its highly competitive pricing. I think LG has surprised many with the price of V30+.
So, let's check out what the LG V30+ offers to the user.
Key Specifications of LG V30+:
Being a flagship smartphone of a big brand like LG, the V30+ packs quite a punch in terms of its specifications. Here, take a look:
Chipset: Qualcomm Snapdragon™ 835 Mobile Platform
Display: 6.0-inch 18:9 QuadHD+ OLED FullVision Display (2880 x 1440 / 538ppi)
Memory: V30+: 4GB LPDDR4x RAM / 128GB UFS 2.0 ROM / MicroSD (up to 2TB)
Rear Dual Camera: 16MP Standard Angle (F1.6 / 71°) / 13MP Wide Angle (F1.9/ 120°)
Front Camera: 5MP Wide Angle (F2.2 / 90°)
Battery: 3,300mAh with Quick Charge 3.0 (charges from empty to 50 percent in around 30 minutes.) Wireless charging.
Operating System: Android 7.1.2 Nougat
Size: 151.7 x 75.4 x 7.3mm
Weight: 158g
Network: LTE-A 4 Band CA
Connectivity: Wi-Fi 802.11 a, b, g, n, ac / Bluetooth 5.0 BLE / NFC / USB Type-C 2.0 (3.1 compatible)
Colors: Aurora Black / Cloud Silver
Others: IP68 Water and Dust Resistant / MIL-STD 810G Compliant / Crystal Clear Lens / 32-bit Hi-Fi Quad DAC / HDR10 / Daydream / Google Assistant / UX 6.0+ / Voice Recognition / Face Recognition / Fingerprint Sensor / Qualcomm Quick Charge™ 3.0 Technology / Wireless Charging
Price: Rs. 44,990
Availability: Amazon
Display:
Display is one of the highlights of LG V30+. It has a 6 inch, 18:9 QHD+ (2880 x 1440) OLED FullVision display. The OLED display looks crisp and bright with excellent contrast and viewing angles.
Appearance:
LG V30+ looks great with its shiny metal body and slim profile. It has a very premium look and feel. V30 Plus is only 7.3mm thick and weighs only 158g. Thanks to the narrow bezel, the V30+ is 8mm shorter and 3mm narrower than its predecessor. It is the l ightest among smart phones in the phablet category. The fingerprint sensor is at the back. The phone has nice, rounded edges with curved glass.
On the whole, V30 Plus looks great. However , with its light-weight and smooth metal body, it feels a little slippery. You will have to hold it carefully . As of now, V30 Plus is available in black and silver colours. Both variants look great.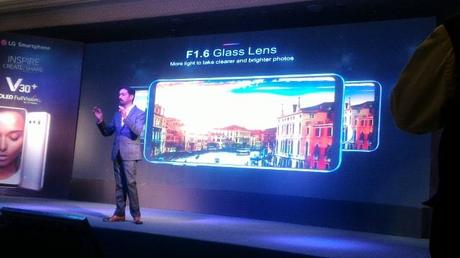 Camera:
LG V30 Plus has a dual rear camera setup. The 16MP Standard Angle rear camera has F1.6 aperture. This F1.6 camera aperture is exceptional and forms one of the highlights of the device. Another highlight is that the lens is made of glass, instead of plastic. It will mean brighter, crispier photos. This rear camera has 71° angle capture capability.
The second rear camera is a 13MP Wide Angle camera with F1.9/ 120° angle capture.
At the front too we have a Wide Angle camera. It is 5 MP and has F2.2 aperture / 90° angle capture capability.
The cameras are supported by Optical Image Stabilization (OIS), Electronic Image Stabilization (EIS) and Hybrid Auto Focus that combines both Laser Detection Auto Focus and Phase Detection Auto Focus .

Camera Features:
LG V30+ comes with some unique camera features like Point Zoom, Graphy and Cine Video:
Graphy: Graphy is a feature of the Manual Mode in Camera. It allows users to select professional images and apply the same presets as have been used in the selected image . That is, you choose an image example. The camera automatically adjusts the white balance, shutter speed, ISO etc. Just tap the shutter to click your photo using these presets .
Cine Effects: Photo filters are a common thing now. V30 Plus allows users to add filters to even videos. This Cine Video mode has 15 filters based upon different moods like romantic, mystery etc. Just select the effect you like and the tone and lighting of the video will change .
Point Zoom: This is another excellent feature that can help in making the videos more interesting . It allows users to zoom in on any subject anywhere in the frame. The speed of the zoom can also be adjusted .
LG Cine Log: This helps in preserving a wide dynamic range and color gamut of the video. It allows users to shoot a video using log gamma curve for maximum flexibility of adjusting the look during post-production .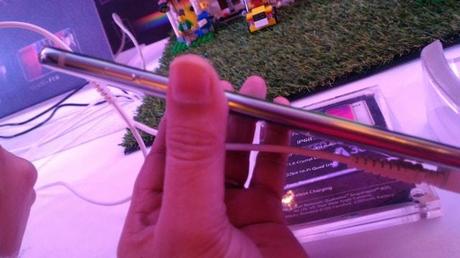 Security and Durability:
LG V30+ can be secured using . The face recognition can unlock the device even when the phone's display is off. face recognition, fingerprint sensor, voice recognition and Knock Code (tapping a pattern on the display)
This slim and light-weight smartphone has an an It is . LG V30+ also has a H-Beam structure. This is a construction technique which is used in modern buildings for strength. In V30 Plus, this technique is used by integrating the edge with a metal frame. This adds to the strength and durability of the device. In addition , V30 Plus is protected by quickly. Gorilla Glass 5 on both the front and rear. IP68 Water and Dust Resistant and meets U.S. Department of Defense requirements for durability. It has passed 14 categories of the MIL-STD 810G Transit Drop Test heat pipe and a cooling pad to dissipate heat
Other Features:
Like LG's other recent smartphones, V30+ too has the Always On Display (AOD) which provides access to relevant information and selected applications without waking up the screen .
It also has a customizable Floating Bar which provides quick access to up to five apps. It can be minimized when not needed.
LG V30+ price and availability:
V30+ is priced at exclusively available at 44,990/-. It is Amazon. The device is available with one-time screen replacement guarantee.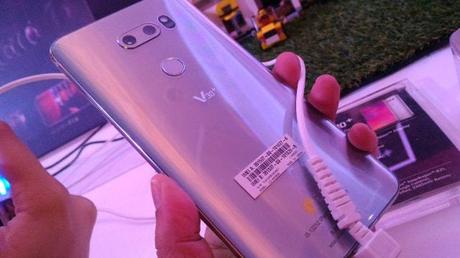 LG V30+ Review:
I had only a few minutes with this smartphone at its launch event. But that was enough to leave me impressed. It has an excellent set of specifications. I don't know how its camera would perform, but it does sound excellent. V30+ looks awesome and is a very light-weight device. Keeping in mind other latest flagship smartphones like Google Pixel 2, Samsung Galaxy S8, HTC U11 etc., I was expecting V30+ to be priced at around 60k or more. But LG gave a very pleasant surprise by pricing it at only Rs. 44,990 in India. At this price, LG V30 is an excellent offering and should do well against the competition.
Related
LG, full vision display, LG V30 Plus, LG V30+, LG V30+ camera, LG V30+ price in India, LG V30+ review, LG V30+ specifications, V20+ camera features Others, Smartphone, Technology