It is my belief that no matter how boring the chore, if you do it using a cool gadget or an expensive machine, it becomes less boring. For example, doing laundry is not quite a task that can be termed as interesting and fun. But just look at LG's latest Twin Wash washing machine (image below). Doesn't it make you want to check it out and use it? That's the joy of technological treats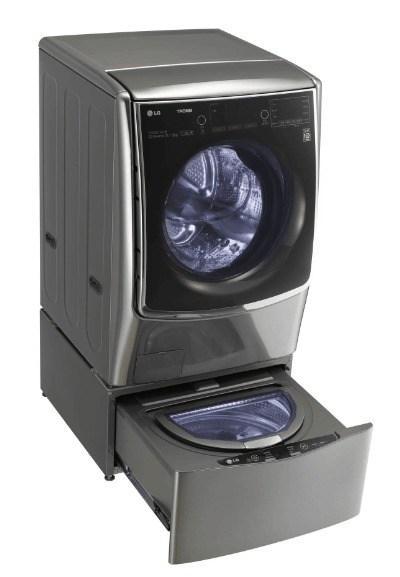 LG's Twin Wash washing machine is being stated as the ' Laundry Innovation of the Year.' Let's see why:
Twin Wash: The most remarkable feature of this washing machine is its two separate wash areas. It can wash two separate loads at the same time. So no need to run two wash cycles for colour and whites. The separate wash area in the pedestal can also be used to wash delicate clothes, baby clothes or intimate clothes separately. This helps saving whites or delicate clothes from harm and also helps in maintaining hygiene during the wash cycle. And of course, it helps in saving time.
Capacity: LG Twin Wash washing machine has capacity of 21Kg. LG is claiming that this is the biggest capacity in the Indian market till now. Added to this is the 3.5 kg mini washer in the pedestal. So the total load capacity is 24.5 kg. With this capacity, users can wash more clothes in one cycle. And this leads to saving of time and water.
Powerful Technologies: LG Twin Wash has TurboWash™ 2.0 system which reduces the time of washing, thereby saving more time. It also has Inverter Direct Drive Motor with 6 motion TM technology, making it more efficient.
Ergonomic Design: The design of this Twin Wash washing machine doesn't just look beautiful, it also enhances user comfort. The ergonomic design gives the machine a tilt at six degrees angle which makes it easier and more comfortable for the user to load or unload the washing machine with clothes.
Faster and Smarter: LG Twin Wash washing machine is equipped with TurboWash 2.0 and TurboSteam features which reduce the time needed for washing clothes. It is also equipped with WiFi and NFC which gives it smart connectivity and control options.
Warranty: LG Twin Wash comes with 10 year warranty on its Inverter Direct Drive Motor.
Price: LG Twin Wash is a power-packed machine with several innovative and futuristic features. But all this power and innovation does not come cheap. The MRP of LG Twin Wash is INR 206000 /-