Hi Huneybees,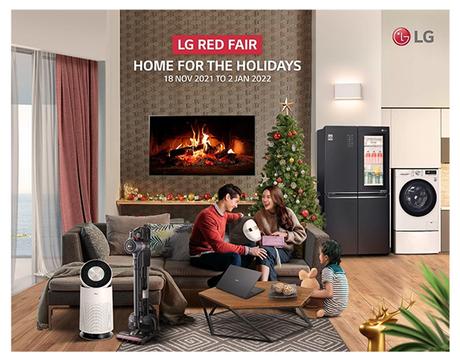 It's time for Christmas and this year if you are thinking of "upgrading" your home with new gadgets, be sure to catch hold of the LG Red Fair f

rom 

18 November 2021

to

2 January 2022

.  There's gona be attractive deals that will bring style and functionality to every house. From beauty devices to home appliances and air care solutions, home entertainment and IT solutions, there is something for everyone this festive season.
What's more! Customers who purchase any promotional items through authorized retailers during LG Red Fair can take part in the Lucky Draw and stand a chance to win attractive prizes worth a total of over S$7,000. For more information - https://www.lg.com/sg/LG-Red-Fair-Home-For-The-Holidays-Lucky-Draw. Below are also the promotions you can find during this period...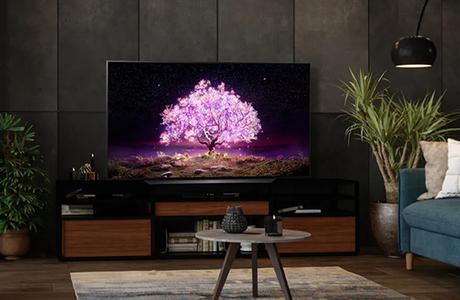 LG OLED TVs
Soak in the ultimate cinematic experience on the magnificent 77 and 83-inch screen sizes of LG G1 and C1 OLED TVs this Christmas. Powered by self-lit pixels, the OLED TVs delivers deepest blacks, rich colours and realistic picture quality, ensuring every scene of your favorite movie comes to life on the ultra large screen. With 100% color fidelity, Dolby Vision IQ, Dolby Atmos®, HDR10 PRO and Filmmaker Mode™, you can be sure to immerse in any content that you are watching. 

For those looking to take their viewing experience to the next level, the OLED G1 evo TV is one not to be missed. Bringing together the perfect harmony of art and technology, it houses the OLED evo technology that offers better luminosity for higher brightness and punchier images. The OLED G1 TV's sleek design flushes to the wall and transforms into a beautiful piece of art when the TV is not in use, making it a grand centerpiece for any space.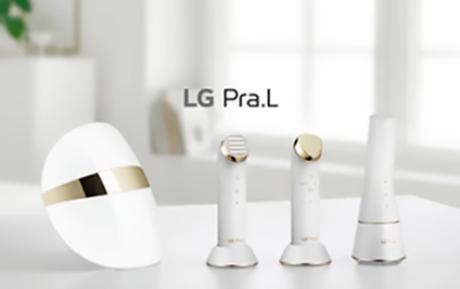 LG Pra.L Home Beauty Care Solutions
Look your best this season with the suite of LG Pra.L beauty care devices - comprising of four cutting-edge devices, each designed to target different skincare needs. The Dual Cleanser comes with two interchangeable brush heads to cleanse the skin effectively: rotation of the fine fiber brush for deep cleansing and micro-vibrations of the silicone brush for gentle daily cleansing, while Galvanic Ion Booster offers two modes: Cleansing Mode performs deep pore cleansing by applying thermal therapy to temporarily loosen pores and draw out impurities deep within the skin and Boost Mode helps active ingredients of skincare to penetrate deeply into the skin. The Total Lift Up Care helps to achieve plump, youthful skin through its tightening and lifting functions, and Derma LED Mask uses 160 LEDs (80 red and 80 infrared) to improve firmness and skin tone through complex Red and IR wavelengths that penetrate deep into the subdermal skin layer for a firm, radiant skin.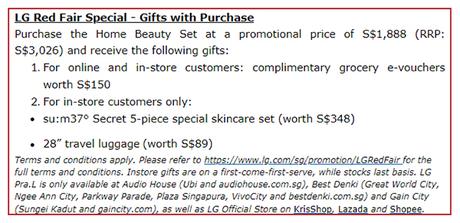 Luggage model/ color might vary across stores. All gifts are on first-come-first-serve, while stocks last basis.
Information Technology Promotions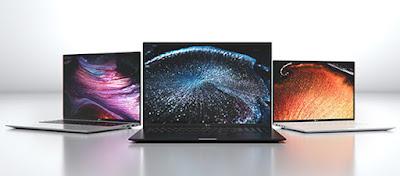 LG gram 16" laptop
Weighing 1190g, the ultraportable LG gram 16" laptop is packed with a long battery life of up to 22 hours, making it an ideal gift for anyone working on the go. It features a high-resolution display covering 99% (typical) of DCI-P3 color space providing users with crisp visuals and accurate colours for work and play. Topping the icing on the cake, the LG gram laptops are Intel® Evo™ Platform verified and powered by an 11th Gen Intel® Core™ processor with Iris® Xe Graphics and LPDDR4x memory, optimizing smooth and responsive performance for any multitasking needs.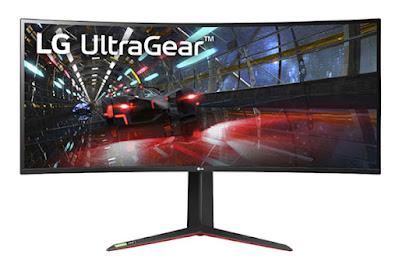 LG UltraGear™ Gaming Monitor (38GN950)
The LG UltraGear™ 38GN950 gaming monitor brings the best of both worlds with exceptional picture quality and high-speed performance. Boasting 1ms Nano IPS Curved Display with a refresh rate of 144Hz, along with an impressive overclockable 160Hz limit for unrivalled performance, gamers can get ahead of any game with ultra-fast speed and respond faster in critical combat. The 38GN950 offers 98% DCI-P3 color gamut, creating precise color reproduction with VESA DisplayHDR™ 600 for every game genre. Compatible with AMD FreeSync™ Premium and NVIDIA G-SYNC®, it reduces screen tearing and minimizes stutter for a smoother and seamless gaming experience.

Home Appliances Promotions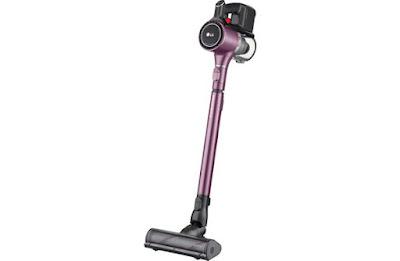 LG CordZero™ Handstick Vacuum Cleaner with AEROSCIENCE™ Technology (A9 LITE)
Adding to its lineup of CordZero™ handstick vacuum cleaner, the new LG A9 LITE comes in a gorgeous pink shade, instantly creating a modern chic look to any interior. Its Brushless Smart Inverter Motor™ rotates at high speed, creating high air flow to generate powerful suction up to 160W for enhanced cleaning performance. The A9 LITE features a five-step filtration system to filter fine dust and dust particles up to 99.999% to keep your home clean and welcome guests during the festive holiday. Enjoy greater convenience while keeping your home spick and span after parties with useful features such as the four adjustable wands to handle cleaning at any height, removable and washable cyclones and filters to keep the vacuum clean after use and a three-way storage stand: wall-mount, floor-standing and compact option, that blends seamlessly into your home.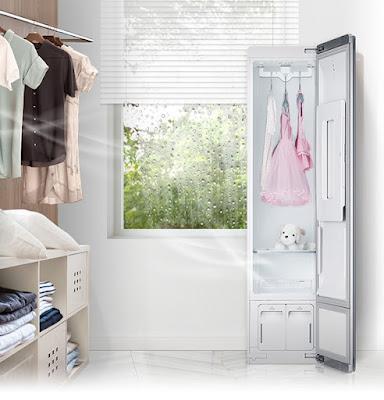 LG styler™ in White (S3WF)
Pop your festive outfits into the LG styler™ to refresh, sanitize and de-wrinkle them. LG TrueSteam™ technology uses 100% water with no chemical additives and eliminates 99.9% virus and bacteria on fabrics and items that are tricky to wash, such as cushions and soft toys. You can place delicate fabrics and everyday wear in the styler™ with a peace of mind as the low temperature drying system protects clothes from shrinking and damage caused by heat, so you can wear them for longer.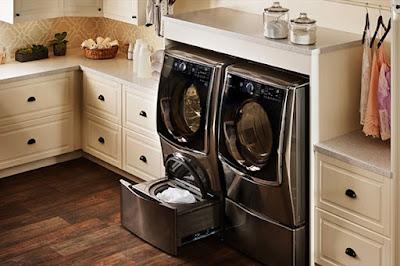 LG TWINWash™ Washing Machine
For the ultimate laundry convenience and efficiency, the LG TWINWash™ washing machine will be the solution you need. Wash two loads simultaneously with both the main washer (FV1450S2K)and mini washer (TV2402NTWB). The FV1450S2K features AI DD™ function, which selects the optimized washing motion by detecting the weight and softness of laundry, providing 18% more fabric protection. Thanks to LG's proprietary technologies like TurboWash™360˚, clean laundry is ready in 39 minutes and LG Steam⁺™ ensures that there are fewer wrinkles and removes up to 99.9% allergens. Mothers would appreciate the TV2402NTWB which is designed for small loads like baby wear or delicate fabrics up to 2kg.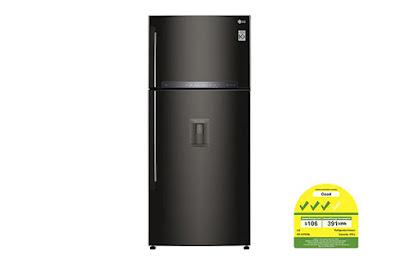 LG 478L Top Freezer Refrigerator (GT-F4781BL)
Christmas is not complete without a sumptuous feast. Stock up the GT-F4781BL refrigerator with festive food to cook up a storm this Yuletide. A trio of innovative features are designed to maintain the freshness of food stored in the refrigerator. They include: LINEARCooling™ and DoorCooling+™ which ensures cold air is evenly dispersed within the refrigerator and temperature fluctuations are reduced so groceries can be kept fresh for longer, and HygieneFresh+™ which removes 99.999% of bacteria and odour in the fridge through a 5-step purification system to keep food smelling clean and fresh. What's more, with a built-in water dispenser, your guests can help themselves to a cup of cold water at their convenience!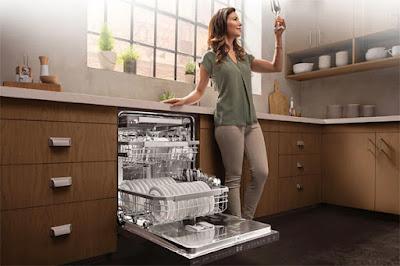 LG QuadWash™ Dishwasher (DFB227HM)
Cleaning up after a big Christmas dinner can be effortless with the help of the LG QuadWash™ Dishwasher (DFB227HM). The dishwasher comes with four Multi-Motion arms that rotate back and forth while spinning and offers powerful cleaning from multiple angles using its high pressure jets. LG TrueSteam™ enhances cleanliness by removing stubborn food scraps and delivers sparkling clean dishes with fewer water spots for the next use. Equipped with the SmartRack™ Plus system, you can easily adjust the racks to load as many dishes at once, reducing cleaning time. LG's Inverter Direct Drive motor and advanced self-cleaning filtration system works quietly in the background, so you can enjoy a heartfelt conversation with your loved ones.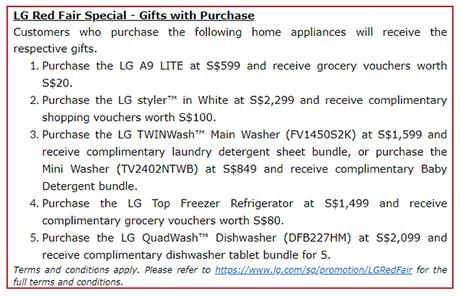 Air Solutions Promotions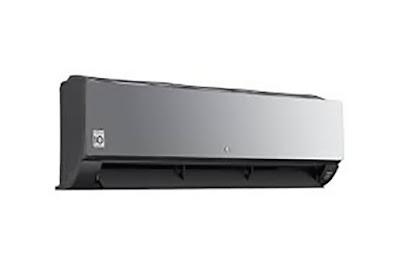 LG ARTCOOL™ and ALPHA+ Air Conditioners
Keep cool during the year-end family parties with LG ARTCOOL™ and ALPHA+ air conditioners. The air conditioners come with a dehumidifying and deodorizing feature to prevent the formation of bacteria and mold on the heat exchanger, providing a clean and healthy indoor air quality. In addition to elevating your living spaces with the stylish LG ARTCOOL™ Air Conditioners, it comes with the Plasmaster Ionizer+ that releases over three million ions into the air to remove harmful bacteria and microscopic particles, resulting in 99.9% cleaner indoor air quality. 

For more information on LG air conditioners, please visit https://www.lg.com/sg/multi-split-inverter-air-conditioners.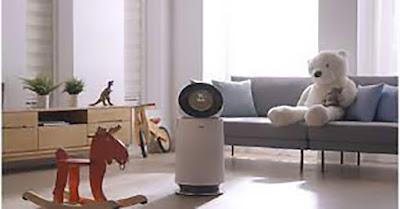 LG PuriCare™ Air Purifier Series
Enjoy clean and fresh air at home as you spend time with your loved ones! The LG PuriCare™ 360° Air Purifiers purifies air from all directions thanks to its 360° air filtration system coupled with the Clean Booster that is constantly in motion to distribute clean air up to 7.5m. The latest air purifiers employ a Safe Plus Filter, Deodorization Filter and an Ionizer, so you can be assured that the aerial environment is free from bacteria, viruses, ultra-fine dust, allergens and harmful gases. For families with young children, the LG PuriCare™ 360° Double Air Purifier is perfect as it increases the area of air flow with its dual towers and the Baby Care mode purifies the air closest to the ground to keep your little ones safe.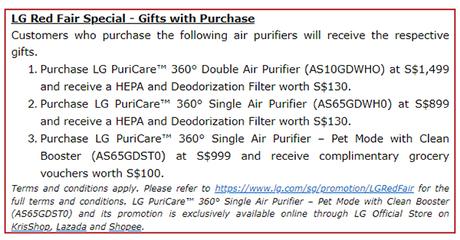 Pet parents will be glad to get their hands on the new LG PuriCare™ Air Purifier (Pet Mode with Clean Booster). It features a Photocatalytic Deodorization Filter to eliminate unpleasant odour, filtering out up to 35% more pet fur and hairs and dust that hover above the floor.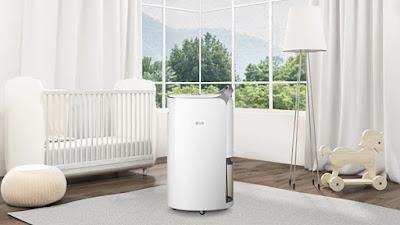 LG 30L Dual Inverter Dehumidifier with Ionizer (MD19GQGA1)
Manage the humidity levels in your homes throughout the year with the MD19GQGA1. The dehumidifier's Ionizer feature emits ions that eliminate airborne bacteria and micro-organisms which keeps indoor environments clean, preventing mold growth on surfaces and clothes. 

Inclusive of two hoses - spot dry hose and Y-hose designed to reach into drawers and garments dry and for drying shoes – making it perfect for those with walk-in wardrobes or sneakerheads.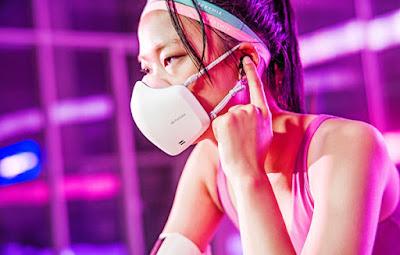 LG PuriCare™ Wearable Air Purifier (2nd Gen)
Wear your confidence whilst out shopping with the improved second-generation LG PuriCare™ Wearable Air Purifier. Built-in with two H13 HEPA filters, fully automatic fan airflow control system and DUAL Fans, you can breathe comfortably and safely as harmful airborne matter such as bacteria and allergens are effectively removed. Speaking while wearing the air purifier is clear and distinct with the VoiceON™ feature that utilizes a microphone and a speaker to ensure that your words are well-projected.

Phew, so there you have it. Aren't the deals so tempting? I'm back to packing my hopme, hopefully to make room for these new gadgets. What about you? For the full details of the LG Red Fair promotions, please visit https://www.lg.com/sg/promotion/LGRedFair.  Happy Shopping!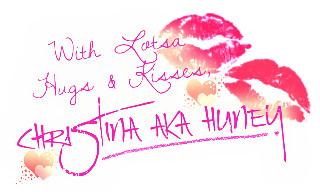 Do follow me on my social media for more daily updates...

Facebook page | 
Twitter | 
Instagra
m
http://www.huneyzworld.com