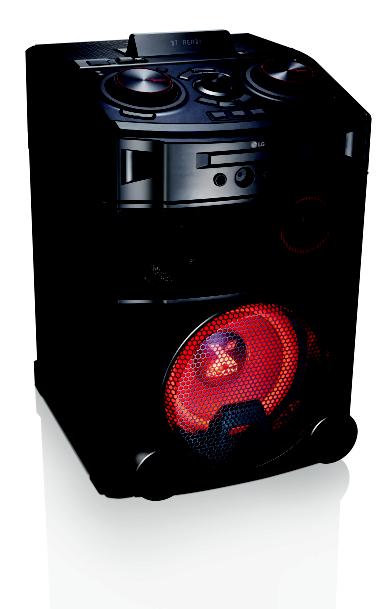 LG's OM7550D-Portable X Boom Thunder is a speaker that is so much more than a speaker. In addition to being capable of delivering a super sound experience, it comes equipped with several useful features such as in-built disk player and FM Radio etc.
Let's take a quick look at its various capabilities:
Sound: OM7550D Portable XBOOM Thunder has 5.1 channel audio and 1000 Wattage RMS of power. That can create powerful and clear sound and add to the pleasure of listening to music.
Disk Player: LG Portable X Boom Thunder is equipped with a DVD / CD player. So there's no need to attach any external player if you want to listen to a DVD or CD. It supports several formats like DVDs, CDs, Xvids, MP3, and WMA.
Multi Connectivity: This sound system can also connect to devices like laptop, smartphone or tablet. It supports the standard 3.5mm mini-jack, RCA JACK, Mic, HDMI, and USB
Vocal Fader: The sound system allows users to reduce the audio level of the original singer vocals with Original Background Music. So users can have more fun in singing with the music.
FM Playback: The speaker also has in-built FM radio with up to 50 Station Storing capacity.
Wireless audio streaming via Bluetooth: The speaker can also connect with phones via Bluetooth for wireless audio streaming.
Auto DJ: One of the most interesting features of this speaker is the Auto DJ mode. It blends one song in to the next to create seamless music playback.
Sound Sync: The audio system can by synced with LG TV wirelessly via Bluetooth. That means, no wire clutter if you want to attach this speaker with LG TV.
Child Safe Mode: If a speaker is turned on with the volume set at a high level, it may cause Sound Shocks to young children. When the Child Safe mode is turned on in this sound system, it increases volume gradually when switched on. The mode can be set by pressing and holding Enter/Set button when the volume of the speaker is 'Min.'
It measures 430 x 665 x 468 (mm) and weighs 22.7 kg. It comes with a Remote Control and HDMI Cable. It allows user to set timer for music playing and has LED indication lights. The LG "X BOOM THUNDER" portable Bluetooth speaker model-OM7550D costs Rs 30,990 in India. It is available at select LG Brand Shops across India.
For more information, check it out at http://www.lg.com/in/home-entertainment/lg-OM7550D