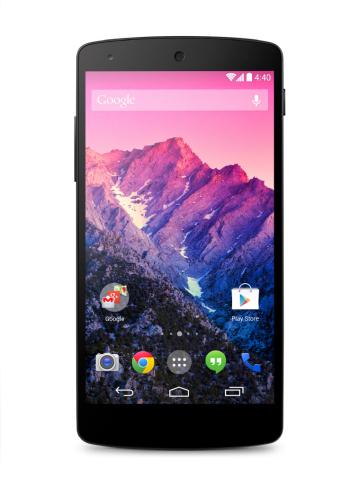 Nexus 5
After a long and eager wait, the consumers in India can now buy the brand new Nexus, LG's Nexus 5. Nexus 5 claims to be the slimmest and fastest Nexus Phone till yet, and is the first smartphone running on Android™ 4.4, KitKat®
Like the hugely succesfull Nexus 4, LG and Google have partnered again to bring out the next in line Nexus 5. Speaking at the launch event of Nexus 5, Soon Kwon, MD LG India said, "LG is proud to partner with Google again to develop the fastest, most powerful Nexus phone ever. Nexus 5 offers the ultimate functionality in a modern design and is a testament to the level of innovation that can be generated when two great companies come together for a second act."
And Sundar Pichai, senior vice president of Android, Chrome and Apps at Google said, "We're excited to collaborate with LG on a new Nexus device. Nexus 5 is the slimmest and fastest Nexus phone to date and puts the latest platform innovations of Android 4.4, KitKat, right in the hands of consumers."
Here's a quick look at its feature highlights and specification:
Camera:
Nexus 5 comes with LG Innotek's optical image stabilizer technology. It is the same technology that was introduced in the LG G2 and received much appreciation from the critics and users. Nexus 5 has an 8MP camera, which is a bit disappointing considering that many devices are already offering a 13 MP camera. But this 8 MP camera of Nexus 5 promises better exposures and reduced blur and noise, and a better performance in dim light. The camera features include the Photo Sphere which captures a series of photos and converts them into a 360-degree experience. The camera of Nexus 5 has an HDR+ mode which captures a quick burst of shots and intelligently fuses the captured images to create one perfect photo.
Hardware and Software:
Nexus 5 comes loaded with Android 4.4, KitKat and has SnapdragonTM 800 processor. The display is 445 ppi Full HD IPS display.  with advanced in-cell touch technology that ensures quicker touch recognition, clearer and crispier images and better outdoor visibility. The device is light weight and has a sleek and modern design and a premium feel to it.
Google's Features:
As said before, Nexus 5 comes loaded with Android 4.4. This latest version of Android OS claims to be fast and powerful yet simple to use. It  offers the users several quite innovative and intuitive features. For example, Nexus 5′s dialer makes automatic suggestions about people you are most likely to call. The new Caller ID feature can match an incoming phone number to a business, even if the number hasn't been stored in the contact list. And of course, all the popular apps and services of Google are available on Nexus 5, like Gmail, Chrome, Calendar, Maps, Drive and Hangouts etc.
Key Specifications:
Processor: Qualcomm® Snapdragon™ 800 with 2.26GHz Quad-Core Krait CPU
Operating System: Android™ 4.4, KitKat®
Display: 5-inch (actual 4.95-inch) Full HD IPS (1920 x 1080 pixels)
Memory: 32GB / 16GB
RAM: 2GB
Camera: Rear 8.0MP with OIS / Front 1.3MP HD
Battery: 2,300mAh Li-Polymer (embedded)
Size: 137.84 x 69.17 x 8.59mm
Weight: 130g
Network: CDMA/1xRTT/EVDO, GSM/GPRS/EDGE, WCDMA/HSPA+, LTE
Others: Wireless charging, NFC
Price: 29,999/- for 16 GB version and 33,999/- for 32 GB version
Colours: Black , White
*******************
How far can a person go to fulfill the dreams of someone else?
Find out in the pages of Dream's Sake, a general fiction novel by Jyoti Arora. For more information and free preview of first chapter click  visit: www,jyotiarora.com

Dream's Sake
A Novel by Jyoti Arora