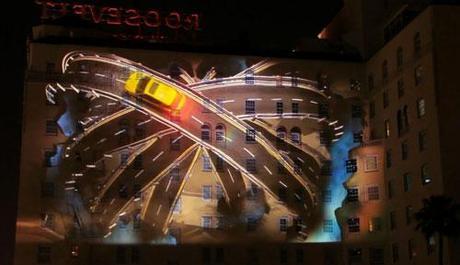 Projections seem to be all the rage these days. And for good reason. They're not just outdoor ads; they're events. For the launch of their hybrid CT200h model, Lexus performed this stunt on the surface of the Roosevelt Hotel in Los Angeles. What makes this particularly fantastic is the integration with the actual building features like the fire escape and windows. Once you get consumed in the video, it really feels like the building is coming apart to reveal some weird inner dimensions.
This project was developed by Pearl Media. Here's a little technical info from their site:
The 8,000 Sq Ft projection, towered over Hollywood Blvd using more than 15 projectors, advanced 3D technology, lighting, sound, shadows and animation mapped to the contours of the building to make images pop out from the walls and windows of the hotel. Using Pearl Media's proprietary HD-3D technology, images emerged from the Roosevelt Hotel onto Hollywood blvd in real time 3D with HD theater quality. Through our dedication to research and development and attention to detail, Pearl is able produce high quality work for our clients that surpasses the competition.
[via DOmedia]
Print

PDF