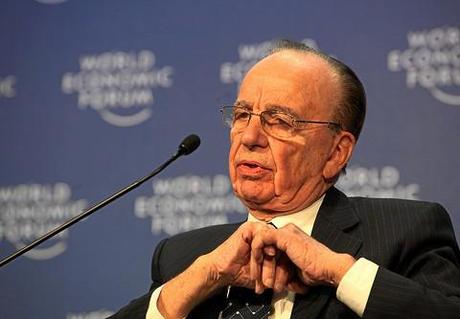 Rupert Murdoch. Photocredit: World Economic Forum
The Leveson Inquiry into the conduct of the media continues to highlight the relationship between successive governments and owner of News Corp Rupert Murdoch. It now appears that David Cameron encountered Rupert Murdoch five more times than he had previously made apparent.
Cameron had published details of his meetings with media types after the phonehacking scandal, and said that he met Murdoch twice. It now appears that only "one on on" meetings were recorded; Murdoch, however, claims that he met Cameron seven times in total. Crucially, though, the other five times were social events. Cameron has said many times, according to The Daily Telegraph, that he did not discuss inappropriate matters with either Murdoch or other media executives. James Murdoch has also claimed that he had "a tiny side conversation" (quoted on The Daily Mail) with Cameron at former News International Chief Rebekah Brooks's house in 2010. These meetings highlight a relationship that could have potentially catastrophic consequences for David Cameron and his government. Culture Secretary Jeremy Hunt may still yet be forced to resign over his dealings with Murdoch and the BSkyB bid.
Murdoch said he'd met the Prime Minister many times, but downplayed his influence, and said that he'd never asked for any favours, nor even discussed News Corp's bid to take over BskyB. He also said that the PM was a "good family man," and that his relationship with Cameron was more distant than the one he'd had with Gordon Brown. Today Murdoch will be answering questions about how he dealt with allegations of criminal behavior at News Corp.
"There's a difference between having a meeting and being in the same room as someone," said a source close to Cameron, quoted on The Daily Telegraph.
"I have never asked a prime minister for anything," said Rupert Murdoch, quoted on The Daily Mail.
Cameron should be afraid. We shouldn't forget, said Peter Oborne on The Telegraph, however "charming" he may appear, that Rupert Murdoch's papers are under investigation. Nothing's been proved yet – but if things are, then it will be the "greatest criminal corruption scandal" in British history. Murdoch himself didn't look like he was taking "revenge on the politicians" – he was "genial." But the inquiry is still a "live and terribly dangerous event for David Cameron." It's possible that he could fall – if it can be shown that Murdoch entered into a bargain with the Tories, which meant that his papers would support them in return for "policy objectives." The evidence is currently "circumstantial" – but the charges are very serious. It would mean "corruption", which could lead to resignations. "A story that started with the arrest of the royal correspondent of the News of the World six years ago has found its way to the door of Downing Street."
Cameron should be candid. There might be some more damning revelations to come, said Stephen Glover in The Daily Mail. Even if there aren't, then Cameron still "won't be off the hook." Politicans aren't doing anything "reprehensible" in meeting editors; and in the same way, editors are in order when trying to "exert political influence." Readers of newspapers don't have to vote for who their paper supports, after all. What is at stake is whether favours were granted by Cameron; also his "appalling judgement" in attending a dinner at Rebekah Brooks's house when James Murdoch was present. It's "not easy to see" how Cameron will dig himself out of this hole. He must now show "complete candour."
Murdoch went for Brown, anyway. The irony is, said David Hughes on his blog at The Telegraph, that it was Gordon Brown that Murdoch dropped in "the nasty stuff." He exacted his revenge on Brown for the latter's claims over how The Sun had hacked into his son's medical records. Murdoch says the story came from a father at the same hospital; he says that a letter Brown sent to Brooks "thanking her for her sensitivity" in handling the story is in the hands of the police.
Cameron might still come out well. Over on The Independent, Steve Richards said that "Cameron can just about brush aside allegations that he got too close to Murdoch on the basis that his Prime Ministerial predecessors did the same, although it becomes much harder for him to claim he is a different type of leader who has learnt from the past. But it is the BSkyB deal that makes the association more toxic, and there are too many emails and investigations to assume that no more will emerge."