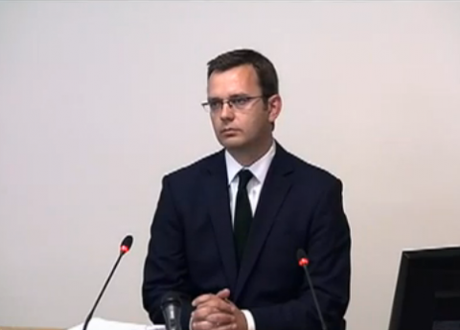 Andy Coulson. Photocredit: Guardian video
The background
The Leveson inquiry into media and ethics continues. Fresh revelations are coming to light: Andy Coulson, the former editor of News of the World who was David Cameron's director of communications from 2010, has claimed that David Cameron only asked him once about being involved in the phone hacking scandal. He also said that Cameron had personally taken part in the vetting process which led to him getting the job.
His security clearance, reported The Telegraph, was lower than it ought to have been for someone in his position; he also retained shares in News Corporation, (the parent company of News of the World) without the Cabinet Office knowing. However, Downing Street says that Coulson never had unauthorised access to sensitive matters.
Meanwhile, David Cameron is alleged to have sent Rebekah Brooks, the former Murdoch tabloid editor and News Corp executive, a text message of support after the phone hacking scandal arose; and Lord Leveson is thought to have begun not enjoying the inquiry's proceedings as political matters get in the way. Rebekah Brooks will face questioning today. Commentators are saying that Andy Coulson played his part very well; and that the inquiry ought to give itself more shape, whilst avoiding these political spats. It's a tough call. The papers' headlines have been focusing on the fact that Cameron only asked Coulson once about phone hacking, which may in itself suggest what slant the media wants to gain from the inquiry.
"The headline, 'Top Tory, coke and the hooker', I don't think can be in any way described as career-enhancing for George Osborne," said Coulson when asked if he'd done any favours for Cameron at NOTWS.
Coulson was brilliant
Coulson "played it brilliantly", said Roy Greenslade in The Guardian. He presented himself as "a stand-up guy", and managed. He didn't criticize Rupert Murdoch or Rebekah Brooks, and was "cautious" when it came to Cameron and George Osborne. And he's not "posh." His message was obvious: Murdoch is no "political string-puller", and Cameron didn't depend on newspaper editors. He "acquitted himself very well."
The real stories are sidelined
One even felt a bit sorry for him, said Michael White in The Guardian. Contrast his situation with Jonathan Harmsworht, the 4th Viscount Rothermere and "billionaire proprietor-in-chief of the Daily Mail." Coulson's an Essex comprehensive schoolboy who does the dirty work. But he showed himself as "a man without secrets." The real story of the day was why John Mullin's story about Coulson's undeclared shares, which "breached witness confidentiality." But that was an "all too brief excursion for inquiry regulars into the messy, real-time world of Fleet Street."
The inquiry must have more shape
As for Lord Leveson himself, said Adrian Hamilton in The Independent, it's no wonder he's not enjoying the inquiry any more. When it started, he could "bask in the assertion of the primacy of the law over an anarchic media." But now politics has reared itse ugly head. Ironically, of course, Cameron started the inquiry to avoid such a situation. But the inquiry has mutated – not least into an effective "trial" of Rupert Murdoch. People want the inquiry to find links between the PM and Murdoch. But Leveson must avoid this political slant, and give "shape" to the inquiry's "inchoate remit." Many questions about the press must be answered – does it have the power it's thought to? Can an indutry whose purpose is "discovery" ever be "compatible with propriety and privacy?" We must avoid regulations that would "cripple the press."