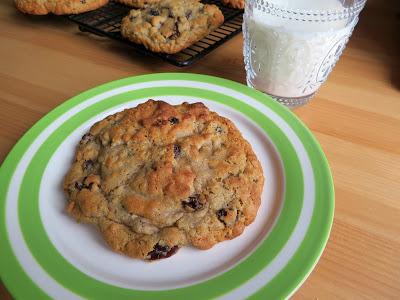 I keep seeing Levain Chocolate Chip Cookies all over InstaGram.  They look fabulous and one day I am going to try them.  The recipe is on a blog called
A Bountiful Kitchen
, which is owned by Si Foster.  Si and her husband are doing Missions in Spain at the  moment for our church. (Just like Todd and I did a few years ago, except we didn't get to go to Spain.)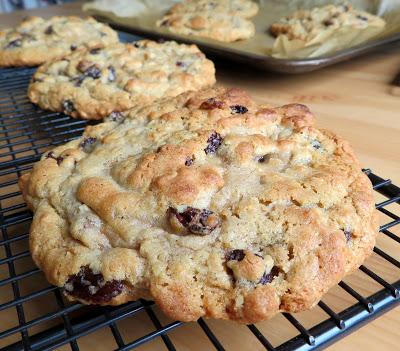 Interestingly enough Si's son in law did his Mission here in the UK several years back.  He was one of my favorite Missionaries, Elder Eliason.  I know I say that about them all!  You know how much we love feeding them.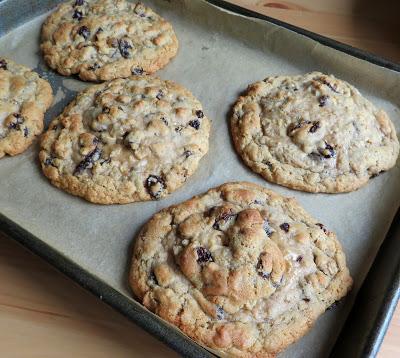 Cody and his wife Brook were here in Chester last summer for a couple of days with their son George.  What a cutie pie George is.  Brook is the owner of the very popular blog,
Female Foodie
. I think eating and cooking good food runs in the family!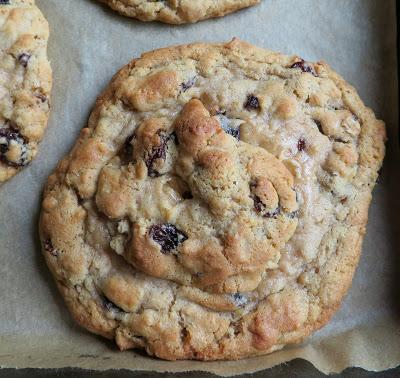 So anyways, I kept seeing these Levain Chocolate Chip Cookies all over IG, all attributed to Si's page.  I took a gander and thought hmm . . .  dare I?  And then I spied her
Levain Bakery Oatmeal Raisin Cookies
, and that did it.  Resistance was futile.  I am a connoisseur of Oatmeal Cookies.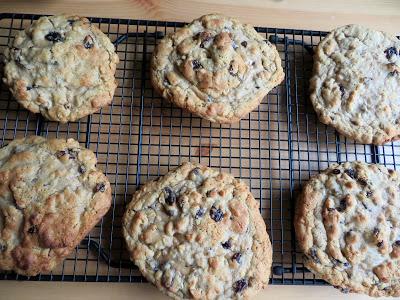 I adore Oatmeal Cookies.  Besides they didn't take as much flour as the Chocolate Chip ones.  The Levain Baker is a NYC Bakery that is well known for its cookies.  People line up around the block for one of their cookies.  And save it to say, they are EXPENSIVE!  I have never had one, but now I feel like I have coz these Oatmeal Raisin Cookies of Si's are AMAZING!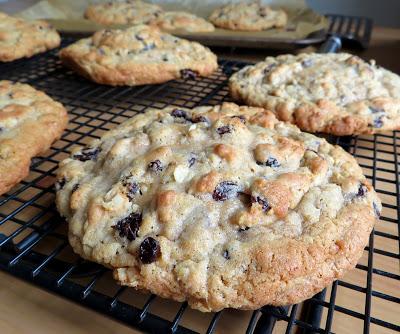 And a whole lot cheaper.  Mine were not as tall as Si's. They did flatten out a bit, but boy oh boy, are they yummy! Each cookie weight a whopping 6 ounces (175g).  That's pretty close to half a pound!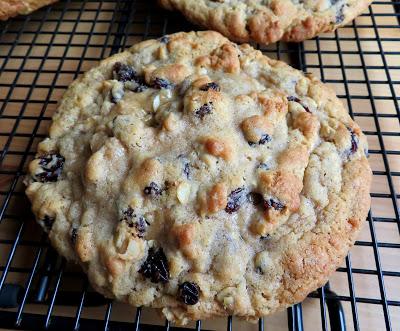 If you want to learn more about these cookies and get the North American measurements, you will have to check out
Si's page
.  I wouldn't want to step on any toes.   She also has a lot of hints and tips for making them the best cookies ever, so do check them out.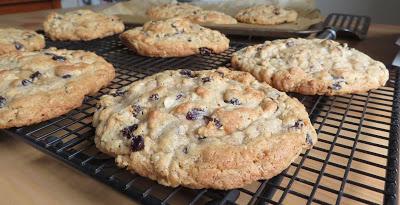 I am only posting my British measurement adaptation here, which I am thinking is a.o.k.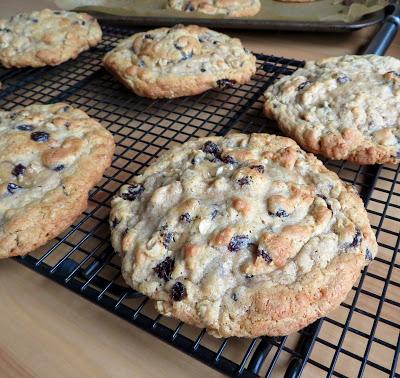 These cookies are as huge as a baby's head.  Seriously. The recipe only makes 9 big beautiful, delicious cookies.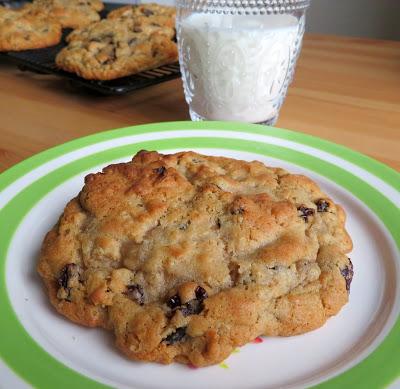 Mine didn't end up as tall as hers did.  I'm not sure why.  (Check hers out.)  But they are incredibly tasty!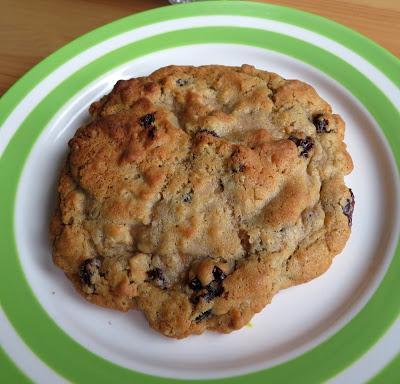 Crisp on the outsides . . .   chock full of oats . . .  chewy almost brownie-like in the middles . . .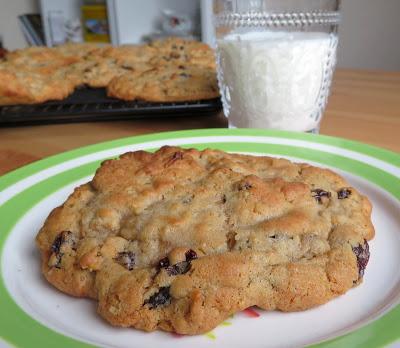 I send some to my next door neighbor. She is always getting us bread and  milk.  She can't do enough for us and she won't take anything in return, but I have found that she doesn't mind me baking things for her and her son, so . . .  yeh, I sent half over to them.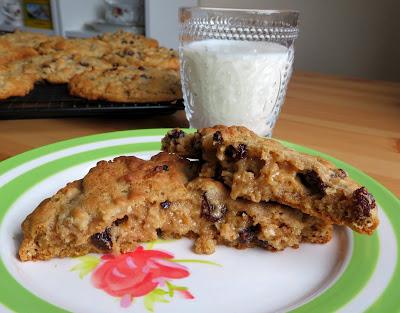 She died and went to heaven.  Seriously. If you are looking for a wicked indulgence, this is the one you want to try.  Especially if you love Oatmeal Cookies!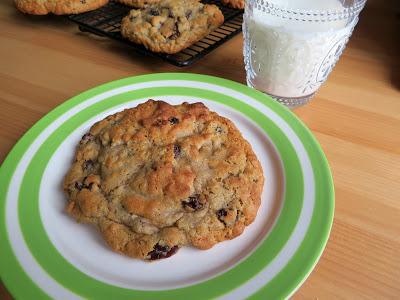 Levain Oatmeal Raisin Cookies
Yield:
makes 9 HUGE cookies
Author:
Marie Rayner
A recipe from Bountiful Kitchen. These cookies are enormous and incredibly moreish. I am only putting the British Conversions here, you will need to visit
A Bountiful Kitchen
to get the North American equivalents in measurements.
Ingredients:
240g unsalted butter, cut into bits
250g soft light brown sugar
95g granulated sugar
2 large free range eggs
385g of plain flour
40g cornflour
115g old fashioned oats
1 tsp baking soda
1/2 tsp fine sea salt
1/2 tsp ground cinnamon
265g raisins
Instructions:
Preheat the oven to 220*C/425*F/ gas mark 7.  Line several baking trays with baking paper.
Cream the butter and both sugars on low  with an electric whisk until very well blended. No butter bits should be visible.  Beat in the eggs, one at a time.  Whisk together the flour, cornflour, soda, oats, salt and cinnamon. Add to the creamed mixture and mix on low until the flour disappears. Mix in the raisins.
Using a pair of kitchen scales measure out amounts of 170g and drop onto the prepared baking sheets leaving plenty of space in between. I did five on one baking sheet and four on the other. Try not to compact the dough, it should be high and quite rough looking.
Bake for 6 to 7 minutes until the cookie is barely set and yet golden on top.
Remove from the oven and leave on the baking sheets for an hour to set up.  Store in an airtight container
Did you make this recipe?
Tag @marierayner5530 on instagram and hashtag it #EnglishKitchenCreated using
The Recipes Generator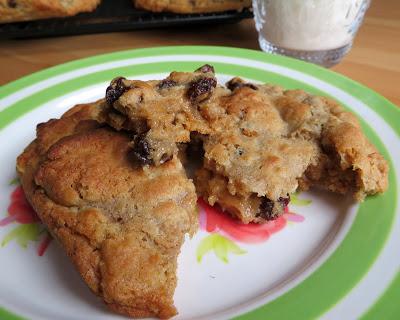 Another thing I liked about these is that they don't use any vanilla.  I am low on Vanilla and am not sure when I can get more, so I am rationing it!  Anyways, you need to bake these cookies if only once in your lifetime.  (Be warned however, when you taste one, you will want them more than once!)  Sorry about that! 

Follow my blog with Bloglovin