Dear Garden
Well its been a bit of a busy time hasn't it? Lots going on in the garden and lots going on all around in general. Feels more like old times despite I am not being totally convinced it is like old times.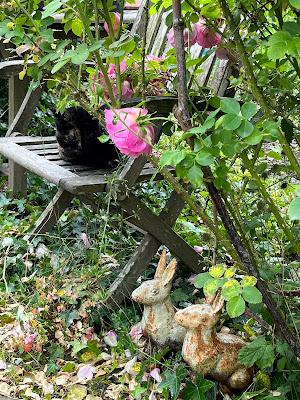 There is such a lot to do at the moment isn't there? Yet you still feel like my place of calm. You have always been my oasis: before and during the lockdowns and now I am back in the office more it makes time with you even more precious. Suddenly having my time more restricted again as my commute resumes into a more frequent pattern, focuses the mind to get on with what needs to be done.
I have been feeling more connected to you, my dear garden, than I have for a while. I say this as if I knew I was not feeling connected to you; but this is not how it has been, I think we drifted. I did not realise that I was maybe just a brief step of disconnect away from you, just like the satellite delay the message was coming through but it was taking a little longer than it should and was not quite in sync. Only when we are completely in sync do I realise that the disconnect was there. It's like when buttoning up a shirt and you get to the top and there is a button left over, you have to look down to see which button has missed being in the right button hole. The shirt is done up, but there is an unseemly draught.
Take care and be kind.