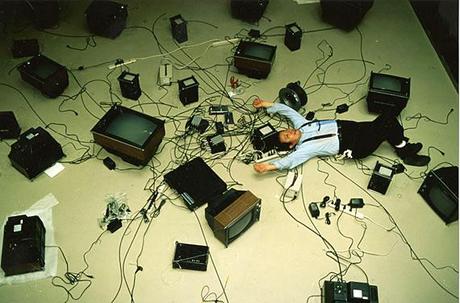 Happy Birthday Nam June Paik!
Join John Hanhardt, senior curator for media arts, and artist Jim Campbell Wednesday evening at 6pm in American Art's Watch This! gallery for a celebration in honor of video artist Nam June Paik's birthday. Paik (1932-2006), internationally recognized as the father of video art, was also a composer, performer, and multimedia artist. Two of his monumental pieces, Electronic Superhighway: Continental U.S., Alaska, Hawaii and Megatron/Matrix are in the collection at American Art and on view. In addition, Paik's extensive archive was recently acquired by the museum.
In addition to the talk, the celebration also includes a specially-designed birthday cake in honor of Paik. I promised not to give to much away at this point, but let's just say this cake will have you thinking of the words TV-dinner (well, at least dessert), in a whole new way.