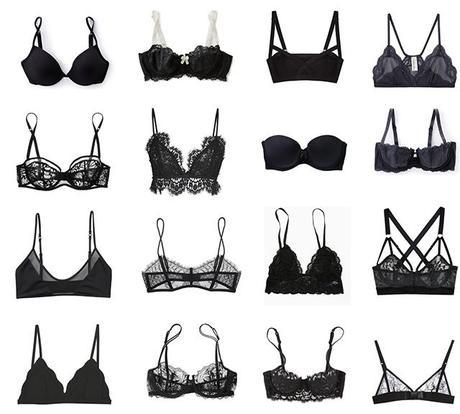 Third Love Mesh Plunge :: Third Love Lace Balconet :: Base Range Lady Racer-Back (on sale) :: Vanessa Bruno Lace Bra
Kiki de Montparnasse Grand Fleur :: Isabel Marant Black Gorge Mia :: Third Love The Everything :: Third Love Mesh Demi
Monki Lola ::Maison Close Villa Satine Wire Free  :: Hanky Panky (similar) :: Lonely Lulu Bondage
Cosabella Dolce Vita :: La Perla Venus :: Simone Perele 'Celeste' :: Kriss Soonik Silvia
–
Oh, boobs! They are such a pain sometimes! Luckily (that was sarcasm) I was blessed with more than any girl could ever need, nor want. They were always such a pain to dress - nothing really covered them nor fit properly. And God forbid you show a little of them, people would automatically assume you were a slut. Even if you couldn't do anything about it! UHG! boobs. Until recently with actresses like Kate Upton and Sofia Vergara who have insatiable curves I thought I was destined to hide them forever. These girls warmly embrace their boobs and have taught me to do the same! Hello, cleavage. Where have you been? Before this surge of boob confidence I liked to cover or hide mine in fear of people getting, "the wrong impression." Gosh people can be so damn judgmental. Since I have this new respect for the right to bare arms all, I need beautiful bras! And no bra on the planet makes you feel better, nor sexier, than a little, lacy, black one. 
After talking to my friend Samantha about Fleur de Mal and hearing about companies like Third Love (who make my favorite bra), I was inspired. I sought out to bring you the best of the web – so you too, can feel sexy, no matter the size! Since creating this post a few of the picks have sold out. Because I don't want you to feel e I have made a list of places I find mine …
 :: Nordstrom -their selection is so on par right now you are too picky if you can't find anything. How beautiful is this little lace number? And, it is under $40!
:: Third Love - hands down makes the best bra I have ever worn. It is (the exact bra) is beautiful, sexy, comfortable, supportive, and versatile. I want 100 more!
:: La Perla - Anytime I want something special they always have what I am looking for. Stop here for the most beautiful bras you have ever seen – and they are having a HUGE sale right now!
:: Fleur de Mal – Really beautiful and different bras. They are all  mostly accompanied with cute bottoms to match. FDM also makes clothing that is stunning! Don't miss!
:: also don't forget the semi-annual sale at V.S. is happening now!  
–
–
scrolling image via fleur de mal
–
–