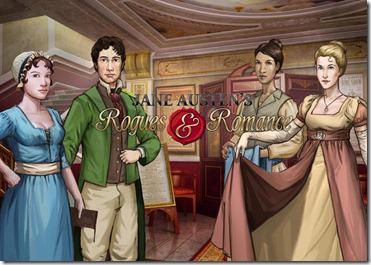 You read about its forthcoming release here at My Jane Austen Book Club when they published a Press Pack in February. At first it was due to release in March but, evidently,  it took longer.  Now it is here! BBC Worldwide Digital Entertainment & Legacy Games have brought Jane Austen and her famously social world to Facebook for the first time with Jane Austen's Rogues and Romance, a new hidden-object social game. Elizabeth Bennet and Fitzwilliam Darcy have escaped from the pages of Jane Austen's Pride and Prejudice and live again in this fantastical romp through Austen's six novels.
Players must find the newly married couple and convince them back into Austen's most popular book. Along the way, they find their place in Regency society and create an Austen-inspired manor. 
What can  players do once they jump into the world of Jane Austen?
•
Send valuable gifts to friends to help increase your social standing in Jane Austen's world. Or, challenge them to a dual of wits as you each try to find as many Regency-period items as possible in a series of hidden object challenges.
•
Choose what type of reputation you want in Jane Austen's world: Renown or Notoriety?
•
Own and decorate a Regency-period manor and unlock additional rooms as you increase your status in the game. Parlours, party rooms and an attic add to the manor's charm.
•
Play more than 20 hidden-object and find-the-difference games, set in the world of Jane Austen's literary creations. Master new levels and Austen quotes are unlocked.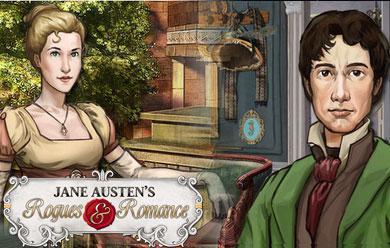 New features will be unveiled over the course of the next few months, including:
•
Claim your place in society: Payers will be able to take their place in society by leaving calling cards, attending and hosting receptions and pursuing courtships
•
Regency-era costumes: Each player will be able to indulge their penchant for fashion with a variety of costumes
Where can you play this new brilliant game? 
On Facebook of course!
CLICK HERE,
like the page and ... START PLAYING THE GAME! How much does it cost? It is free with monetization. For further information contact 
L

[email protected]
, BBC Worldwide or visit 
 BBC Legacy Games Official Site 
http://www.austengame.com/
Follow Jane Austen's Rogues & Romance on Twitter