I'm going to Albay. I'm going to eat Bicolano grub. I must eat Bicolano grub! And I am making sure pinangat is one of them. My tastebuds first encountered pinangat in Camarines Sur in 2012. Afterwards, because I was never given the gift of cooking, I could only salivate at photos and recipes of pinangat.
According to Camalig's website, "Pinangat is a nutritious vegetable dish whose main ingredient includes gabi leaves, a bit of red ginger, tiny shrimps or a slice of salted fish or pork. Crushed pepper is added to the mixture to make the pinangat hot. The entire recipe is then wrapped in gabi leaves and tied in small bundles. These are placed in a palayok (clay pot) and cooked in coconut milk."
I am sure I can find pinangat just about anywhere in Albay, but when I discovered my route was through Camalig, the hometown of pinangat, I could not let the opportunity literally pass me by.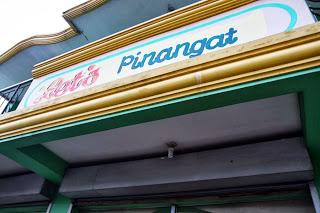 Let's Pinangat, in the town of Camalig, is a very simple eatery. It looks like a cafeteria with a set of viands in a stainless steel and glass case, a separate display of Bicolano delicacies, and a glass–front refrigerator stocked with beverages. Three enormous stainless steel containers piled one on top of the other, full of hot steaming pinangat, sweat on a table between the case of viands and display of delicacies. Locals constantly trickle in to buy food either for take out or for dining in. There are other dishes on offer but everyone who came, I observed, have at least an order of pinangat. It must be really good then.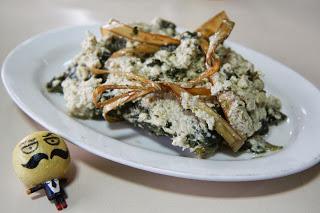 For forty pesos, I get one huge serving of pinangat. Seriously huge! I could only finish half of it with my one cup of rice. If I wasn't too full, I would have ordered two cups of rice and eaten everything. It is with regret that I had to leave half of this delicious pinangat behind.

Find your way to Let's Pinangat:
From Legazpi City, take a Camalig–bound jeepney. Jeepneys going to Guinobatan/Ligao City/Oas/Polangui also pass by Camalig. Let's Pinangat is along the highway. I am positive jeepney drivers know where it is.
How this simple meal was heavy on Mustachio's stomach but light on his pocket:
Pinangat Php 40
Rice Php 15
A Fraction of Albay:Camalig: Let's Pinangat, Shall We? (you're here!)
Ligao City (soon)
Legazpi City (soon)