As my time in Beijing concluded in February 2020 it was crucial that all of the top tourist sites had been seen! Making the best of a crazy situation I used my inner city hotel reservation to my advantage. Choosing to visit Beijing's Haidian District had me on a mission during that sunny weekend. No, the Summer Palace, Yuanmingyuan Park and Wudaokou weren't going to wait!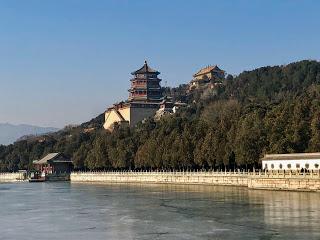 Making my way from my Beijing hotel in the heart of the city's lively Tuanjiehu, I took the underground to Beigonmen Station to reach Beijing's Summer Palace. I had been looking forward to seeing that Beijing landmark but the weather needed to be on its best behaviour, well more like the pollution! Finding my way to the entrance, I paid my discounted seasonal admission fee. The signs were pretty hazy so I trusted my Apple Maps and half of my Chinese sign reading skills to find the frozen Kunming Lake. It took a little bit of walking to find my chosen photo point, the walk along the frozen lake had me feeling all kinds of thoughts for the year that was ahead of me. The famous 'Hill of Longevity' stood before me, I was all about seeing the 'Tower of Buddhist Incense' from a distance. The 'tower' and the 'lake' make this Haidian District attraction look so iconic, definitely impressing me! The beauty B!
Beijing's 'Qingyi Garden' was first constructed in 1750, those formative years were founded on a different plot of land because a certain shade was thrown! After some unfortunate happenings the modern Summer Palace was built in 1888 with a much needed name change, the Empress Dowager Cixi pulled funds from unauthorised sources to ensure she had somewhere comfortable to live through her final years. I could only imagine the opulent surroundings that China's former Empress had views for days as she would look over the palace's Kunming Lake. I enjoyed the views from the safety of the stone path, others were dancing on the ice but that certainly wasn't for me! It had taken me some time to get to Beijing's Summer Palace but all good things come to those who wait, it was a case of timing. I would soon learn about the foreign led changes that had forced Beijing to built a new palace in Haidian District. Keeping my head clear was the best choice for that weekend. I had clarity!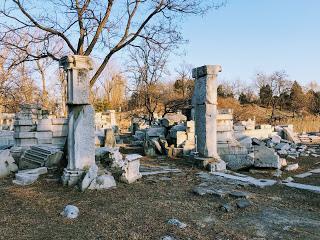 Wanting to add to my previous university discovery, I tried my luck to access the Beijing University grounds. Tsinghua University guards allowed me to bike into the gates without any questions asked, unfortunately I wasn't meant to be that Saturday afternoon. Jumping back onto the Beijing Subway had to be the thing to do. Arriving at Beijing's original Summer Palace had me confused, I needed to do my research quick-time! The old Summer Palace had been constructed during 1709 by the lead of Emperor Kangxi during the Qing Dynasty. Fast forwarding to 1860, it was believed that French Allied Forces made a right old mess at Beijing's Yuanmingyuan, the former emperors pleasure playground. I didn't care about those delicate details because I simply wanted to marvel at the ruins that stood before me. The walk from the entrance to the park had taken a few hundred steps to reach! The was setting, I didn't have time! 
Impressed by the history and the ruins that stood before me, I didn't feel bad that I couldn't gain access to the gardens within Beijing University. The distance from the modern Summer Palace to Yuanmingyuan Park wasn't a lot but with walking and metro interchanges taken into consideration it was almost my whole day to cover a small part of the district. Enjoying my view at the original palace I also felt that timing had brought me to that Beijing landmark before my Ningbo bound train would take me to my new city the following month. The other visitors to the ruins couldn't take their eyes off me, had they never seen a foreigner before? Anyhow, I made my way back to the entrance from the ruins with a feeling of accomplishment. With the evening drawing in, I needed to get back onto the subway to conclude my penultimate day of sightseeing in Beijing, China. Well for now, I do intend on returning in a year or so like I did with Wuhan. Beijing had something Korean for my tea!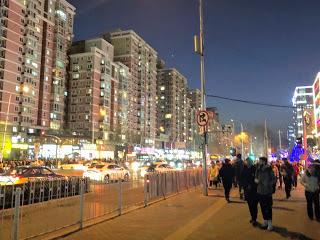 After battling my way through the Saturday evening rush on the ever hectic Beijing Subway, I arrived in Wudaokou to be greeted with lights and a lot of energy! I preferred going out in Sanlitun to my usual nightspots, so I hadn't paid Wudaokou until that point. Keeping to my level headed focus for the weekend, I was limiting myself to one beer. The traffic was chaotic, people were absolutely and if truth be told I was feeling very hungry! Wudaokou is known for its large Korean student population, taking heed of that Korean connection I chose a Korean restaurant to have some much needed food. I picked the first place I saw in amongst the lights and action, waiting for my table I didn't take a lot of time before I knew what I wanted! I ordered a large Korean draft beer, some Korean fried chicken with a side of Tteokbokki. The BJ Tteokbokki was a lot spicier compared with the variation I had enjoyed in Dandong!
The restaurant had KPOP music videos playing all around, that KPOP display had me feeling some of way because I wanted Korean and its craziness back in my life! Enjoying my food, I ate way too much but everything was good even if the Teokbokki and sweet chilly chicken packed some spicy flavourings. I kept to my one beer limit, I wasn't about to get wasted because I was aiming for a very sober Sunday! Enjoying the mayhem of Wudaokou's traffic and shopfront lights, it really hammered home much I had been sheltered whilst living in Shunyi District. Making my way back to the hotel wasn't bad, the train journey on the Beijing Subway from Wudaokou to Tuanjiehu didn't take so long. I didn't have any thoughts about heading into Sanlitun that night, I needed my bed for certain! The day spent within Beijing's Haidian District had been a genuinely lovely day out, it helped me wrap up more of my last places to see in the city of Beijing. Keeping it chilled, the warm hotel room was lovely!
Haidian Done!
Joseph Harrison