Christmas Season is almost over and, unfortunately (or miraculously), I haven't had any lechon at all! Anyone want to throw a party with me before the year ends? Tatang's Extra Crispy Boneless Cebu Lechon has party packages good for 8 to 10 persons.
Party Package A (Php 1350)
30 pcs puso
1 kg regular or spicy lechon
20 pcs ngohiong
Lechon kare–kare
Party Package B (Php 1350)
30 pcs puso
1 kg regular or spicy lechon
20 pcs ngohiong
400g lechon flakes
Party Package C (Php 1250)
30 pcs puso
1 kg regular or spicy lechon
20 pcs ngohiong
Dinuguan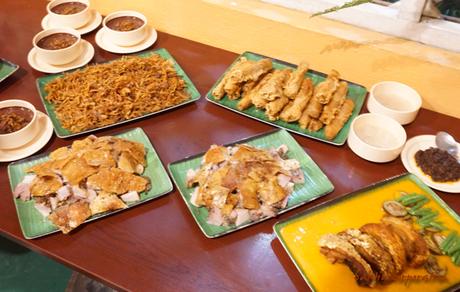 Clockwise from top left: dinuguan, lechon flakes, ngohiong, lechon kare-kare, and lechon(Photo by Baktin Corporation)
Or if we reach 40 persons, we can have the Lechon Wrap and Lechon Station (Php 7900, good for 40 pax) instead!
Lechon Wrap and Lechon Station Inclusions:
Lechon chopping stand and side table with Lechonero (2 hours)
8 kg regular or spicy lechon
120 pcs wraps
Wraps garnish: fried garlic, cucumber, singkamas, hoisin sauce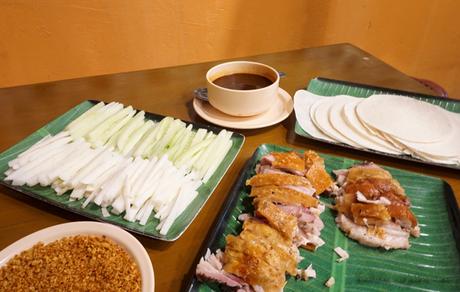 Lechon wrap (Photo by Baktin Corporation)
I can just taste the spicy lechon and hear the delicious crunch of its skin. And the lechon flakes...ahhh, I can munch on it right about now. And the lip–smacking peanut–buttery lechon kare–kare. And the lechon wrap which reminds me of Peking duck (which reminded me of lechon the first time I tried it!). Nom nom nom, lechon everything!!!
Come on, friends, let's have a lechon party! But let us not invite our doctors. We will surely get a talking to!
Tatang's Extra Crispy Boneless Cebu Lechon
Corner Pasteur St and Wilson St, Lahug, Cebu City


(032) 316 4719


Note: Party packages should be booked at least a day in advance, while the lechon wrap and lechon station should be booked at least four days in advance.