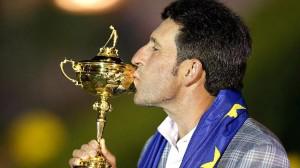 Europe captain Jose Maria Olazabal saw the last great Ryder Cup comeback victory first-hand, so the Spaniard knew that overcoming their 10-6 deficit at the end of Saturday's play against the U.S. was possible. "I believe that it's not over," said Olazabal, continuing to draw inspiration from great friend and mentor Seve Ballesteros, who died last year at age 54 after a battle with cancer.
Team Europe players did not shy away from the challenge and on Sunday morning Europe came charging out of the traps with Luke Donald going into an early two-hole lead over Bubba Watson, muting both the crowd and his opponent in the process. Blows were then traded down the stretch, one side grabbing the initiative before the other took it back, until it came down to the last two matches on the final two holes.
Martin Kaymer then sank a five-foot putt on the 18th green to get his team to the 14 points needed to retain the trophy and with a Tiger Woods bogey on the final green of the final match Jose Maria Olazabal's side celebrated overall victory.
"The boys understood that believing was the most important thing and they did," said Olazabal, "it was a fitting tribute to the late Seve Ballesteros, the man who did so much to reinvigorate the competition."
If, like us, watching this years nail-biting Ryder Cup has inspired the Seve Ballesteros in you, you'll be pleased to learn that www.socksupermarket.com has both men's and ladies technical and pro golf socks in stock. See you at the 19th!
For ladies: Horizon Technical Quarter Golf:  A quarter length fully cushioned combed Cotton/Lycra sock with Coolmax padding, gentle grip sections and a fine toe seam.
For men: Horizon Pro Golf Crew: Fully cushioned throughout in combed Cotton and Lycra and Horizon Technical Crew Golf: Merino Wool/Cotton blend with Coolmax sole.