I know, I know!  It has been so long since I have touched the "what celebrity I would want as a spin instructor" topic. I made a vow stating that I wouldn't continue this post until my legs stopped hurting as a consequence of my first spin class…today, my legs stopped hurting.
I have wanted to write about the following celebrity for quite some time…and now I have the appropriate arena to do so. Make sure your seatbelts are properly fastened…
Goldie Hawn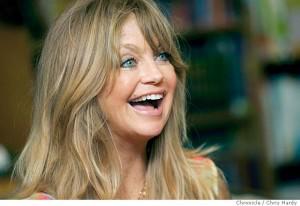 Photo Courtesy: articles.sfgate.com
At 66 years young, Goldie Hawn looks better than I do. Born in Washington D.C. and acting since 1967, Goldie is the perfect combination of funny and motivational that I need to get my ass pedaling on that damn spin bike.
Fun Fact: Goldie was a go-go dancer in New York City before hitting it big.
Goldie has been in many films and has even won an Academy Award for Best Actress for her role in the 1969 classic "Cactus Flower."
I think what outshines Goldie's movie career is her relationships and children. As you should know, Goldie has been married two times (Gus Trikonis and Bill Hudson). With Hudson, Goldie had two children Oliver and Kate.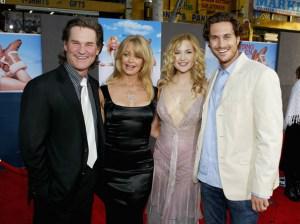 Photo Courtesy: zimbio.com
Currently, Miss Hawn is life-partnering with Kurt Russell. Meeting on the set of "Swing Shift," these two lovebirds have been in a relationship since 1983. In 1986, they popped out a son, Wyatt Russell.
On a religious note, Goldie is a self-proclaimed Jewish Buddhist…where do I sign up for that?!
I believe the main reason why I have chosen Goldie as my next spin instructor is not because of her Jewish Buddhism faith, but because of her role in "The First Wives Club." While I know this movie came out in 1996, but it's still on rotation on the HBO channels in my apartment and I watch it every. damn. time.
Goldie plays Elise Elliot, an Academy Award winning actress who is hil.ar.ious but drinks and smokes…a lot. I have been told when I hit her age I will be just like her. I'm taking that as a compliment. The following clip pretty much sums up my future.
One of my favorite quotes in this entire film is when Goldie's character proclaims, "Look, I do all my own stunts." As do I Goldie, as do I.
We can both do our own stunts in spin class…see you there!