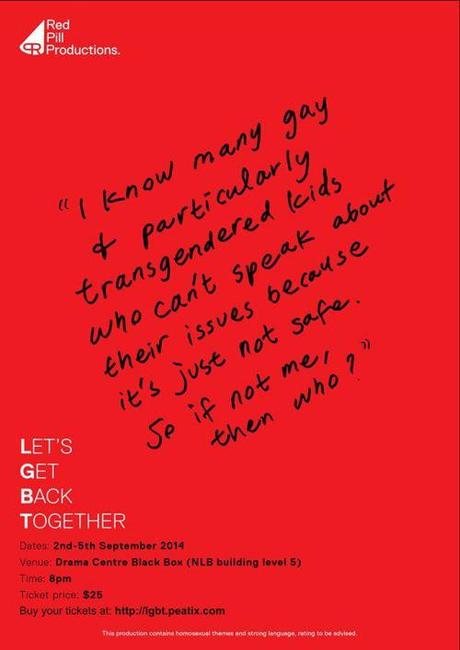 Let's Get Back Together is an original testimonial theater piece by Red Pill Productions that explores what it means to be lesbian, gay, bisexual or transgender (LGBT) in present-day Singapore.
Based on interviews conducted with over 50 individuals from the LGBT community in Singapore, Let's Get Back Together explores the realities that LGBT individuals face on a daily basis. From coming out to facing discrimination from wider society to grappling with faith, the road to acceptance is a constant and very real struggle for many in the community.
Included into the narrative are excerpts from 7 protagonists in the book "I Will Survive: Personal LGBT stories in Singapore". For the very first time, the stories of Kenny, Pat, Stefanie, Zakaria, Ashraff, Dreghren and Kris will be portrayed on stage.
Cast:
Rosemary Mcgowan
Theresa Wee-Yenko
Cassandra Spykerman
Mitchell Poon
Ahmad Ezzat Alkaff
Matthew J Fam
Directed by:
Mark Ng
Written by:
Mark Ng, Kenneth Chia & Kimberly Anne Arriola
About Red Pill Productions:
Established in 2013, by a group of young aspiring theater makers driven to continue seeking and making new art. The company had their debut in October 2013, when they re-staged local playwright Alfian Sa'at's work Sex. Violence. Blood. Gore. Popspoken in their review  went as far as to suggest "keeping an eye out for this theater group because it has shown it can play with the big boys."
 >>>Get your tickets to Let's Get Back Together HERE!!!<<<