The past couple of months have seen a spate of attacks on Facebook users with objectionable material being posted on friends' walls automatically without your knowledge. This has led to an increase in concerns among the Facebook community and many have even considered quitting the social networking site. This act of quitting only spurs the malicious attackers to coordinate more such attacks in the future.
As part of ReflectionsPN's "Your Guide to Social Networks" (the first article was on Empire Avenue (EAv), expect more articles on EAv in the future) series, I aim to educate you about of Facebook and its myriad settings that can scare the wits out of the common Facebook user. It is a humble attempt on my part seeing so many of my friends falling prey to these attacks. I don't pretend to be a Mr Know-It-All and would gladly incorporate any suggestions or missing points in this article. So, are you ready? Let's face Facebook! 
Security
Let's first take a look at those security settings, shall we? Click on the arrow next to home in the top right corner when in Facebook and click on "Account Settings".

Secure Browsing is a MUST (Click to enlarge)
The two most important settings here are "Secure Browsing" and "App Passwords". Firstly, please for God's sake, Enable Secure Browsing. It helps Facebook thwart at least half the malicious attacks. This is because you then start surfing Facebook with the additional layer of SSL (Secure Sockets Layer). It is difficult (not impossible) to breach this kind of security. Another thing is App Passwords. App passwords are much like Google's Application Passwords. Every time you sign in through an app, Facebook will give you a one-time password which authorises your login the first time. And, you PERSONALLY do it. You don't share your password. It is much more secure than OAuth which is the next best thing. In my case, it is not enabled because I have added my devices before Facebook introduced App Passwords.
Another important piece of advice which Facebook doesn't tell you explicitly but is hidden in its Guide to Security. If you are at your friend's place or at any public place (cyber cafe, airport etc) and want to login into Facebook, there is a feature by which you don't need to enter your password. If your mobile is registered with Facebook, text "otp" to Facebook (32665 in USA, +919232232665 in India). You will receive a one-time password from Facebook which is valid only once and for only 20 minutes. So, no fear of keyloggers!
App Settings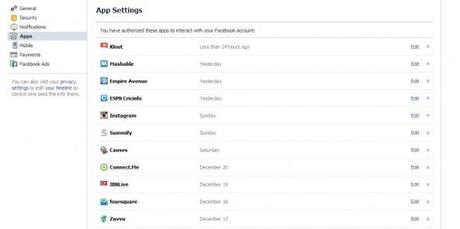 The apps which you have authorised are shown under App Settings
All the apps which you have authorised to connect to Facebook are listed under "Apps" in Account Settings. When you click on one of them, it shows what data from your profile is being used by that app. Let's take Instagram as an example.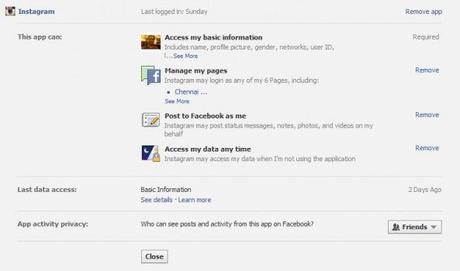 Data shared by Facebook
When you click on app and open it, it shows all the data which Facebook is giving to the app. You can decide which data can be shared, which cannot and, if you want delete the app. Even the privacy settings for the app is specified.
Privacy
Privacy settings are an ocean. Let's go step-by-step. First, click on Privacy Settings which is under Account Settings in the top right corner dropdown menu.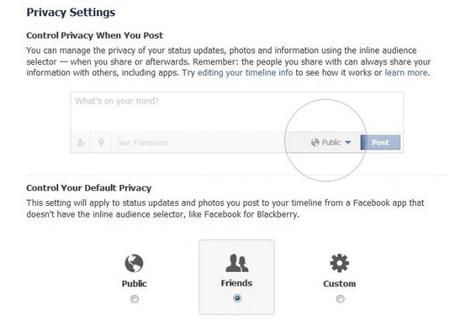 Default privacy settings
Default privacy as Facebook tells you is the privacy setting applied if you post from a device which doesn't have inline privacy. Like, if you send an SMS to set your status, these settings apply. Everything else is decided by you as shown in the top half of the picture above.
This is Part 1, readers! Leave your suggestions below. And, subscribe to me on Facebook at https://www.facebook.com/pratnala.
Stay safe and stay tuned for Part 2!!