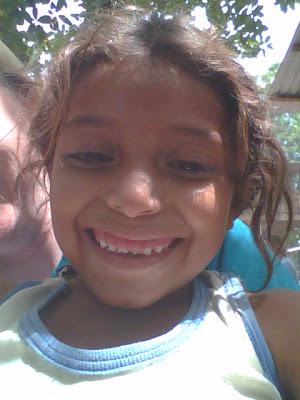 Nuvia (pronounced Nubia) is a precious 6 year old from Cedeño, a small fishing community in Honduras. This sweet little girl Stole. My. Heart. from the first day I saw her. Not sure what it was about her. Maybe that she is 6 like my SK. Or the longing and spark in her eyes. Or the easy, yet guarded smile she flashed me. Maybe more than any of those it was God leading us to each other.
I first met Nuvia at church on Sunday but did not get any pictures then. I went out on food distribution in Cedeño Thursday and got to see her then.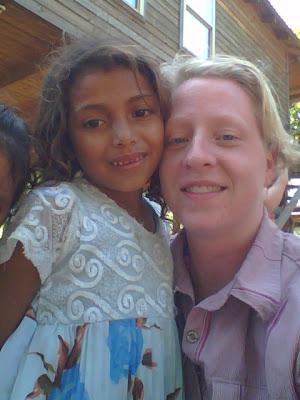 And then again on Friday when all of our group from Crossbridge went to Cedeño for shoe distribution. It was HOT and we had a cooler of cold drinks. Ken shared his with Nuvia.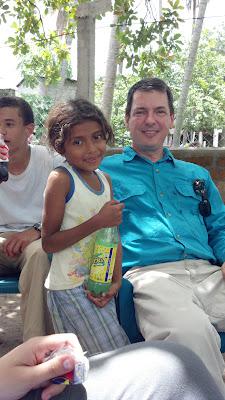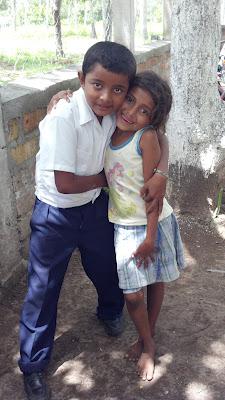 Nuvia's brother who is 10.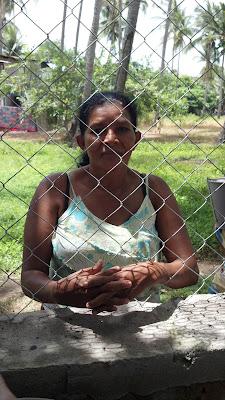 Nuvia's very sweet mother.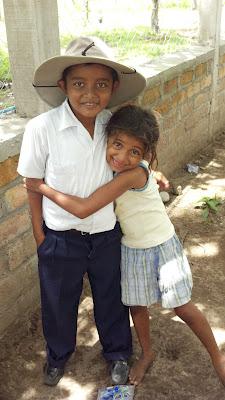 Sweet love of siblings.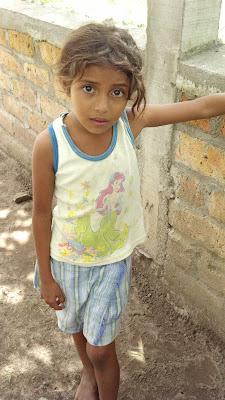 She just wanted to be shown she was loved. I do not know what life is like for her at home. She like so many others are sent out at such a young age to bring in money in different ways for their family. Whether it be filling a pothole, selling homemade jewelry or food that they have made. All I know is this girl let me hug on her and she staid put in my lap when she could have been off running around playing. She had the best time playing with my phone. The camera can face you so you see yourself while taking pictures. She loved to see herself! I never thought that they don't have mirrors like we do so some may not have ever seen themselves before. The mommas were particularly proud when you took a picture of their babies and then showed it to them. The biggest grins would grace their faces!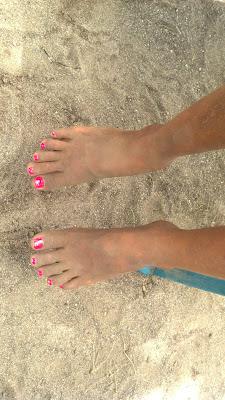 I got to paint toenails..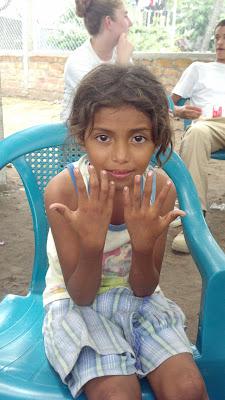 and fingernails!
She loved it!
You could tell by the way their toenails and fingernails looked that they do not have the nutrition that children here do. And the fact that most do not have shoes..their feet were beautiful yet stained with dirt and coarse from walking for miles and miles on them.
Nuvia does not have access to fresh, clean water to drink. I filled up an empty bottle with some of our water that we brought with us. She downed half of it in less than 30 seconds. I honestly have never seen anyone drink like that before.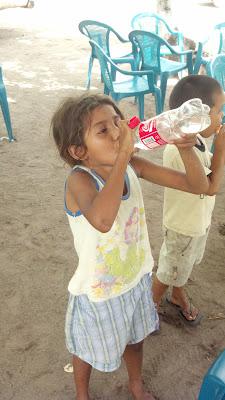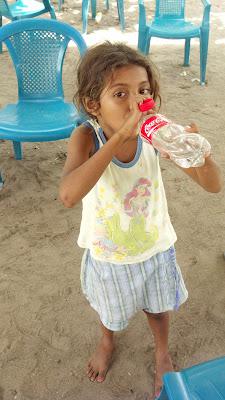 This was the last chance I got to see my sweet, new friend who stole my heart. I wanted to bring her home with me. She and SK would have so much fun together!
Before we left Nuvia was begging me for zapatos (shoes). It broke my heart that these sweet babies don't have the luxury of one pair of shoes much less a closet full of them. I cried as we left because I have so very much and just wanted to help this community and sweet girl more.
I will never forget sweet Nuvia and pray that I will meet her again one day. She is a precious daughter of our Lord and He is her protector. She touched my life in ways that I cannot put into words. Dagwood, Ken and Mandee have said that on each trip there is one child who just gets to you. I didn't get what they were talking about until I met Nuvia. I get it now!
I have had so many people ask about our trip and I just can't find the appropriate words. I stumble over words because it is so hard to explain it. I end up saying something like it was great. That doesn't even come close to describing this trip. It has been a month this week that we were there. I am doing my best to try and figure out how to put into words the experiences I had and the wonderful people I met.
I hope to be adding more posts as I can sort through pictures and add thoughts. Also trying to decide whether to add a Honduras tab but for now look for the Honduras label. And check back for more posts.
I'll leave you with one last picture of myself and Nuvia. And something to ponder. If you have ever thought about going on a mission trip; DO IT! You will be blessed and shown that the Kingdom of God reaches the distant and impoverished countries. The people of Honduras have a zeal for spreading His word and it was truly a blessing to be a part of this trip.