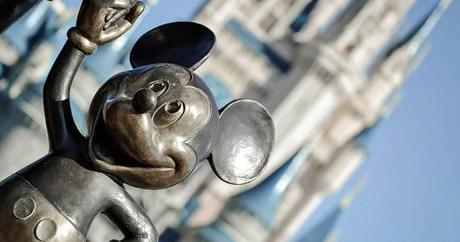 With another Disney World vacation come and gone, I found myself sitting in solitude pouring over the thousands of images I snapped while at WDW.  As I smiled at the photos still so fresh in my mind, I realized that this trip was unlike any Disney vacation I had taken previously. I couldn't quite put my finger on why it was so special, I just felt that it was.
I sighed a deep sigh, realizing that a full-blown case of ADVBS was setting in, and lessons I had not yet known I had learned began creeping into my mind, so I decided to write them down and treasure them. Remember them.
Lesson One: Being overweight at the parks stinks!
I came across a photo of myself and my son and became enraged with myself at how out of control I had let my weight become. Don't get me wrong, I know I am overweight. I'm nearing 400 lbs so trust me I know. While at Disney however it really became noticeable in my mind as there are rides I can not get on with my kids. Other times I saw guys my size (albeit 20-30 years older) that needed electric scooters to get around the parks. At the end of every day I could not even stand due to the pain in my feet. Now I do not tell you this for sympathy but I decided the night I saw that picture that things needed to change. I am still a young guy in my 20′s, I have time to turn this around. I owe it to my wife and kids. I now have a goal of loosing 100 lbs before my next trip to Walt Disney World. It is do-able and I will do it. I may even chronicle the weight loss a bit on this blog.
Lesson Two: Disconnecting was worth it!
Before we left I made a conscious decision not to spend any time checking my emails, reading the news, checking in on fb and twitter for work etc.
I assume most people have these same issues while on vacation* but let me challenge you. When you go on vacation… GO ON VACATION!! At the end of the week when I sat down and realized I had not checked my email once, It felt.. freeing. Being in WDW puts you almost in a vacuum bubble where you have absolutely no need to contact the outside world. Everything you need is in the confines of the 49 square miles. Life will begin again when you leave so since you paid thousands of dollars to be here, then do just that. Be here.
*In fact I just read a great blog post dealing with this issue on The Happy Place Blog
Lesson Three: Family is always enough!
Being with family has become one of the most important things in my life. I belong to the school of thought that family never takes a back seat to anything. I always hear of these people saying they want to be able to get their career, hobbies, friends sorted before developing a family life. I did the complete opposite, Jobs, friends, hobbies will come and go and if a job conflicts with my home life, the job is not worth it. I never realized it so much until spending a week at WDW with my beautiful family. We were just with each other and got to take a time out and just concentrate on loving each other. Our life is very hectic normally. My wife is a full time Nursing Student, works part time selling shoes, and a full time mom. I am a full time student, full time Dad, and run a pizza business. It does not leave a lot of time for anything. Our lives leading up to this trip were just so hectic, and last week taught me to slow down and realize the important things. In the end, it is not going to matter how much money we made, or what "stuff" we acquired, instead it will be being surrounded by those we loved and invested in our entire lives. As one of my favorite bands Mumford and Sons say "Where you invest your love, you invest your life"
These are my lessons, and I hope you take a few moments to consider them. Let me leave you with this:
Next time you take a trip to Disney or anywhere for that matter, take a step back and just breathe in. Just be. Just soak it all in. It doesn't last long.
Got any stories about learned lessons at Disney? Learned lessons while vacationing anywhere? let us know!