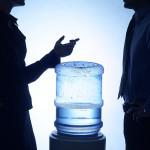 We've discussed the issue of plagiarism before, on a couple of occasions. (See our post on 'Avoiding Online Plagiarism' last April) But really, the overall realm of original content is the gift that keeps on giving. A major topic of discussion around the Writesourcing water cooler (our virtual one, of course) is if there are other ways to define 'original content' that looks beyond the obvious theft, sourcing quoted material and the like. Well, fortunately, a client forced us to explore that further.
On a few occasions, we had a regular client mention that there is "plagiarism"  in a few stray articles – usually three conjoined words to be specific. Well, the thing about this "plagiarism" is that it's nothing remotely suspicious; it's simply been some common phrasing that anyone could come up with on their own without needing to borrow it from someone else. If you hadn't caught in, this of course is not where the story ends, or I wouldn't be writing about it, even though you might think that should be where it does.
The thing is, our client may not have really meant "plagiarism" as that (to me at least) equates with stealing.  She wasn't throwing it around as an accusation because what she really meant to indicate is that her definition of 'unique content' to her means that absolutely nothing can be the same as anything else that's online. That applies even to the most elementary phrases.
It isn't that this isn't something that we don't do – I just never would have defined this as avoiding plagiarism. So what do you need to do to accomplish that? Well, Copyscape is a great tool for this –it will pick up even those 3 commonly strung together words so you can make sure that you choose three different ones that haven't already been used.