Friday's Quotes for the Chicks
"Just because something is traditional is no reason to do it, of course."
Lemony Snicket
In planning our Thanksgiving Day menu, I have to make a true confession. Along with never having made sugar cookies from scratch, I have never made this thing: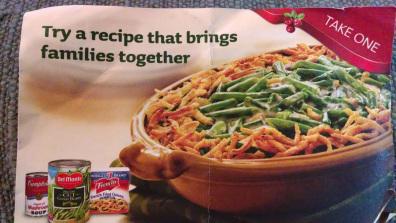 If truth be known, I don't even think I've ever tasted it (I know, Thanksgiving Day sacrilege.)
So my question to you today is:
Is it worth it?
Should I make it just because it's as American as well, the Apple pie I have planned.
Or should I skip it, knowing that most of it will end up in the chicken coop anyway?
***
As always, peaceful weekend everyone, health and happiness (and safety) to your flock.
***
Wendy Thomas writes about the lessons learned while raising children and chickens in New Hampshire. Contact her at [email protected]
Also, join me on Facebook to find out more about the flock (children and chickens) and see some pretty funny chicken jokes, photos of tiny houses, and even  a recipe or two. 
Like what you read here? Consider subscribing to this blog so that you'll never miss a post. And feel free to share with those who may need a little chicken love.