Friday's Quotes for the Chicks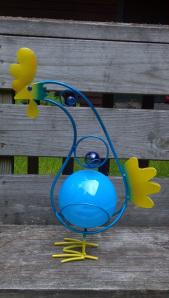 I just love your chickens.
Emily Bersin
This is solar powered chicken light that a good friend gave to me. (hi Em!) It sits on the back porch table where we have our dinners.
Chickens light up my life during the day when they are out and about doing their thing.
It seems only natural that, with this statue, now they also light up my nights.
***
As always, peaceful weekend everyone, health and happiness (and safety) to your flock.
***
Wendy Thomas writes about the lessons learned while raising children and chickens in New Hampshire. Contact her at [email protected]
Also, join me on Facebook to find out more about the flock (children and chickens) and see some pretty funny chicken jokes, photos of tiny houses, and even  a recipe or two. 
Like what you read here? Consider subscribing to this blog so that you'll never miss a post. And feel free to share with those who may need a little chicken love.