I haven't written about Charlie lately (although that was her photo in the heat the other day.)
I can't tell you how much I love this chicken. This bird who after living in our house for 6 months has the temperament of a teen, the allegiance of a flock member, and the life enthusiasm of a puppy – all from the early imprint models she was exposed to in her youth.
When I let the flock out from the coop she always runs up to me and lets me stroke her chest (a downward motion with a flat palm never on her head.) Always.
Yesterday, after she had greeted me, she and a pal went off to the side of the yard to peck and scratch near our compost pile. Apparently something was in the wooded area that spooked them causing both girls to squawk and fly away from the perceived danger. Not only did Charlie escape the danger but when she heard me call out her name in alarm, she came running, limbs akimbo, half flying – half jumping. She wanted me – the big mama hen who would literally sooth her ruffled feathers and tell her that all would be well.  That she was, once again, safe.
Each night the entire family eats our dinner on a glass table out on the deck. It's so normal to have our dog and chickens under the table while we eat that I'm a little worried my kids are going to think that those who don't eat around chickens are the strange ones. I know I shouldn't but I always drop a piece or two of lettuce on the ground especially when I know that Charlie is wandering by my chair.
Does she wander near the chair because she knows I'll drop the greens or do I drop the greens because she wanders near my chair? It's an answer as elusive as that to the proverbial question of which came first, the chicken or the egg.
In my case, it really doesn't matter. I think it's pretty clear that Charlie and I are just glad we have each other.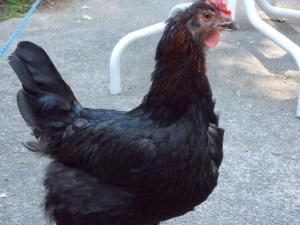 ***
Wendy Thomas writes about the lessons learned while raising children and chickens in New Hampshire. Contact her at [email protected]
Also, join me on Facebook to find out more about the flock (children and chickens) and see some pretty funny chicken jokes, photos of tiny houses, and even a recipe or two.