Well I certainly stepped into it over at Community Chickens! I recently wrote an article about how people who have backyard chickens should not have bird feeders in their yards.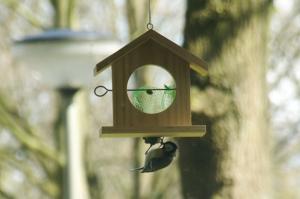 Many people are upset saying that I've gone too far with regard to bio security. "How on earth can you keep wild birds from flying across your coop and dropping a poop or two?" – I was asked by more than one reader. "I only feed birds in the winter," several others wrote. "So it's not a problem."
The point of my article is that bird feeders attract birds (at least the good ones do anyway.) That's their job. By attracting birds you are inviting a large population into a concentrated area. It's something that does not normally happen in nature.
With a lot of birds comes a lot of poop and the accumulated poop under the bird feeder *can* (And probably does) contain pathogens that could be harmful to your flock.
As a former microbiologist, this all makes sense to me. Salmonella in song birds has long been recognized as a concern.
What about the wild birds in your neighborhood?- Nothing you can do about that, but if you don't have a feeder, at least they are not congregating in your yard and you are not increasing the population.
What about if your neighbor has a feeder – Again, nothing you can do about that, but don't make it easy for your neighbor's birds to then come over to your yard.
But I love my feeders!- Look, if you want to have a feeder, then have one, but recognize that you are *potentially* inviting disease into your yard if you keep a feeder near your flock (or allow your flock to free range near your feeders.) Chickens scratch in the dirt, why increase their chances at exposure to known pathogens?
And if you insist on a feeder, this link from USGS National Wildlife Health Center has good information on feeder cleaning and maintenance.
***
And here are some additional links about the subject:
For those who want additional information: here are the USDA biosecurity guidelines for chickens (they mention to keep wild birds away from your flock) 
Here is information on Salmonella in wildbirds from the Mass Audubon. (note they say that this is more of a problem in the winter than in the warmer months)
The is an article on a Salmonella outbreak in the Bay Area where they specifically point to bird feeders as a culprit in the outbreak
Photo credit: Marcel "Madjo" de Jong
***
Wendy Thomas writes about the lessons learned while raising children and chickens in New Hampshire. Contact her at [email protected]mpleThrift.com
Also, join me on Facebook to find out more about the flock (children and chickens) and see some pretty funny chicken jokes, photos of tiny houses, and even a recipe or two.