First things first. The winner of Murray McMurray Hatchery's Chickens in Five Minutes a Day is: Connie – the *last* person to enter a comment. (Which is funny because yesterday when I saw that comment, I thought, poor her, it's never the first or last person. Just goes to show me, right?)
Well this time, it is the last person, so let's hear it for being last! Here's the proof from Random.org.
True Random Number Generator

Result:

33 
Connie, please send me your shipping information and I'll forward it to the publisher who will be getting a copy of this book out to you. (My contact information is at the right top of this page.) Congratulations.
For those of you who didn't win and who are starting out with chickens (or who have an existing flock), I would encourage you to check out this book. It's one of the better ones on the care and management of a backyard/urban flock.
But I just want to add that while *technically* you could only spend five minutes a day tending to your chickens, I can't imagine why you wouldn't want to spend more time.
This weekend we had the chickens and children out in the yard as we mucked the hen house (my, oh, my, that winter bedding undergrowth was vile.) The girls and kids gently clucked around us as we did our work, all of us glad to be out in the sun.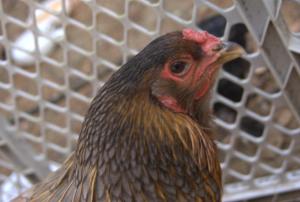 Zelda catching some rays
At one point, later in the day, when the kids had gone inside to catch up on their instant chats with friends,  Emma came to the back door, "Guess who I found in the house?" she asked holding the screen door for someone to exit.
I looked up in time to see Charlie casually stroll out of the kitchen and onto the porch, very smug and very sure of herself. Apparently a side door had been left slightly open and Charlie, being Charlie, had waltzed right in like she (still) owned the place.
Apparently, according to Charlie anyway,  you can *always* go back home.
***
Wendy Thomas writes about the lessons learned while raising children and chickens in New Hampshire. Contact her at [email protected]
Also, join me on Facebook to find out more about the flock (children and chickens) and see some pretty funny chicken jokes, photos of tiny houses, and even a recipe or two.