Moms and Dads, take note – this is what happens to your kids when you surround them with animals and teach them that even the weakest among the flock deserves a chance.
***
Saturday morning, I came downstairs to find this box, perforated with air holes, and placed by my son Trevor on our kitchen table.
Right next to it, I found this note.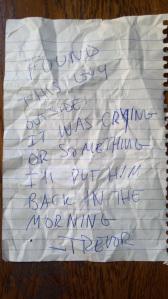 Found this guy outside. It was crying or something. I'll put him back in the morning – Trevor
And inside the box, I found this.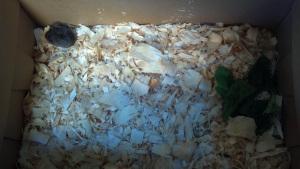 A baby field mouse kept warm throughout the night by wood chips and given a leaf of lettuce to eat.
This, from my tough, nearly 18 year old son who will be entering the Army Corp of Cadets this coming fall at Norwich University.
This, from my son, who has learned well, the lessons of living with and looking out for the members of our flock.
Like all mothers who have sons going into the military, I worry. I wonder if perhaps, he will be hardened by the people and traditions that will surround him, possibly turning him into something that causes a little bit of trepidation, a little bit of fear at what the combined mentality of the military is capable of.
But after seeing this, I have no worries. My son's compass points true. He knows the value of compassion.
Trevor truly understands that we are all members of the same flock, fully responsible for each other. And he has learned that if someone is alone and crying in the cold night, you offer them food, comfort, and a warm place to rest. You provide whatever comfort you can.
Even if it means putting a mouse on your mother's kitchen table.