A friend of mine (Hi Em!) stopped by yesterday for a visit with Violet. With all that's going on in the world these days, it was nice to take a little bit of time away from the news sites to spend it with a friend and a chicken.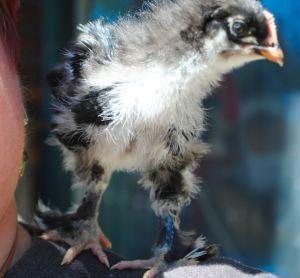 Photo credit: Emily Bersin
Violet, who has a personality of her own, took immediately to Em. She climbed up on Em's shoulder and snuggled up under her chin to take a nap.
"Some people have a chip on their shoulder. Look at me," crowed Emily, "I have a chicken on mine."
When Violet had had enough of being in high places, she climbed down to lower ground (a leg) and stretched herself out in the sun, the beginnings of a dust bath – her instinctive behavior of how to relax in the sun.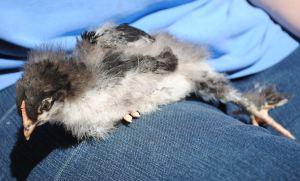 Photo credit: Emily Bersin
We can learn much gentle wisdom from these chickens of ours:
Even when it looks like the world is falling apart, be sure to spend time with friends. Hug them when it's time to say good-bye.
Take time to appreciate the rest and rejuvenation power of the sun. Get outdoors for at least a few minutes each day.
And when you need to poop, don't do it on your friend.
***
Wendy Thomas writes about the lessons learned while raising children and chickens in New Hampshire. Contact her at [email protected]
Also, join me on Facebook to find out more about the flock (children and chickens) and see some pretty funny chicken jokes, photos of tiny houses, and even a recipe or two.