I have a tiny writing space at the back of a storage room. In it I have my desk, computer, and all the notebooks and reference material I need to write my articles and get my work done. I fit in it nicely, as does one other human-person at a time. In the afternoons, the kids take turns coming into my "cave" to tell me what happened at school. Having one talk at at time, means that I really listen to and hear them one at a time. It's turned out to be not such a bad thing.
To one side of my tiny office, I also have a yellow reading chair I had found at a consignment shop a while back. Once Pippin discovered it, however, he called it his.
And then this happened.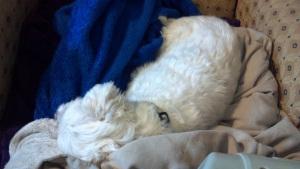 Yes, there is a dog in there.
Violet has decided that her spot to spend the day is on a pillow, near a heater, on the floor … in, you guessed it, my office.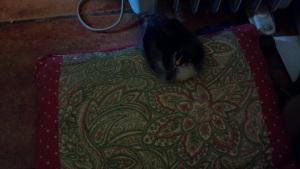 And while my writing space, my cave at the back of the room, is small – it's definitely cozy. I do my daily writing with my two friends keeping me company, one chasing butterflies in his sleep, the other softly trilling songs of contentment.
***
Wendy Thomas writes about the lessons learned while raising children and chickens in New Hampshire. Contact her at [email protected]
Also, join me on Facebook to find out more about the flock (children and chickens) and see some pretty funny chicken jokes, photos of tiny houses, and even a recipe or two.