Friday's Quotes for the Chicks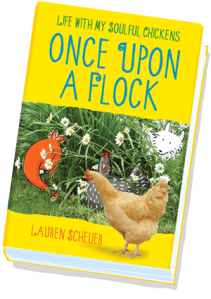 "Heartbreaking, Wendy.  Flock, Family, Pet…. We blur the lines between them, because we're human.
Nessa Rose clearly knows you're there to love and comfort her.
Sometimes it's so hard to follow your heart."
Lauren Scheuer on the death of our dog; Nessa. This is a lady who gets it.
Book Winner
Today is Friday, the end of the week and the time where I announce the winner of Lauren's fabulous new book "Once Upon a Flock." I used the random.org tool and the winner is:
Allison Drouillard
Please contact me with your shipping information and we'll get a copy out to you pronto.
To tie up a few loose ends from this past week:
Why Charlie?
Charlie got her name because she is a Black Copper Marans. This bird breed lays dark brown, chocolate colored eggs. As a favorite memory of my kids was when I read them Charlie and the Chocolate Factory, it was an easy decision to come up with the name.
At the time, we didn't know if she was male or female but it doesn't matter.  We choose names based on personality and not necessarily sex (just ask our hens, Simon and Garfunkel, and Currier and Ives.)
Where's Charlie now?
For those of you who may be new to the story of Charlie – she is alive and well has been fully integrated into the flock. She hasn't lost her house-chickendom though and she will at every chance come into the house to look around and sneak some food from Pippin's bowl.
Don't worry, I'll be writing about her again soon.
Generic recipe for quiche?
(Just remember two 1s and three 1.5s)
Pie crust
1 onion (I like onions so I tend to use the entire thing, but you can cut back )
1 cup of meat/protein/ mushrooms
1.5 cups of vegetables (leftovers are fine, as is a mixture)
1.5 cups of cheese
1.5 cups of half and half
Quiche in general is a very forgiving recipe. If you use sauted onions and good cheese, you can pretty much put anything in there.
A great suggestion from my Facebook page was a "Swiss, chard, and mushroom" Quiche.
Add a salad to a slice of quiche and you've got yourself a wonderful dinner.
Chicks out of the nest
For the first time ever, not all of the chicks are going to be home for Easter. One will be at college (didn't make sense for him to travel for 2 days to come home for a weekend) and two are on a school field trip.
Ah, so this is what it's going to feel like.
A good Good Friday
Today is the day I set aside every year to go up to Kittery Mall to hit the outlets with a good, good friend of mine. We shop. We talk. We have a lobster roll. Too many years ago my friend passed away, I continue going to Kittery on Good Friday to honor her spirit.
***
As always, happy weekend everyone, health and happiness (and safety) to your flock.
***
Wendy Thomas writes about the lessons learned while raising children and chickens in New Hampshire. Contact her at [email protected]
Also, join me on Facebook to find out more about the flock (children and chickens) and see some pretty funny chicken jokes, photos of tiny houses, and even  a recipe or two.