When you receive a box of old family photographs, you go through them one by one trying to find any family similarities. Trying to see if a quirky trait of yours was passed down, a half smile the result of genetics, or even whether there is photographic proof that your best friend was a white and black spotted stuffed dog toy that stood forever, silently at your pillow waiting each night for you to come to bed.
The older you get, the more you wonder about where it is and from what experiences it was you came from. What molded you and what tiny seeds of your life sprouted in your youth that were carried over to adult hood.
Oh some things are undeniable; all of us Thomas girls were gifted with wide, large cheeked English faces. No amount of "fish-lips" could ever hide those vast areas of flesh (forever to be pinched by visiting relatives on holidays.) It's pretty clear where those came from.
Thanks mom.
Other things are a little more subtle. Who was it that gave me my fighting spirit? The spirit that pushed me though a childhood car accident and the many surgeries that followed?
And from whom was it that I got my intense protective mama-hen love for my children and of all things tiny and struggling?
I scan each photo, looking at expressions, clothing, even the backgrounds trying to decipher clues of my very being, and while I haven't been able to figure out much yet, I do have a few ideas.
This is a photo of my mother when she was 4 years old.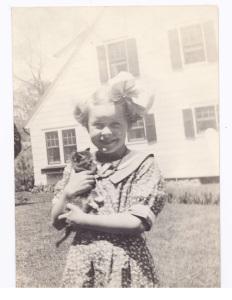 And this is a photo of me.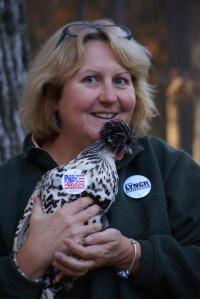 Thanks mom.
 ***
Wendy Thomas writes about the lessons learned while raising children and chickens in New Hampshire. Contact her at [email protected]