Friday's Quotes for the Chicks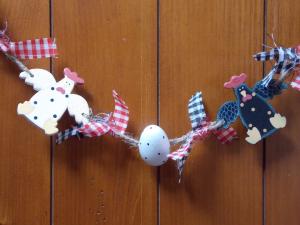 "I'm lucky. Lord, I'm lucky."
Carroll O'Connor
Chickens, chickens, chickens. Let's face it, chicken people like chicken things.
Every year as a fund raiser for the Northeastern Poultry Congress, they hold a huge raffle. Honestly, I think that I sometimes go only for that spectacular event. It's one of the most amazing raffles I have ever seen. You get to place your tickets in hopes of getting piles of toys, books, complete bedroom sets, kitchen items, nick-knacks, Halloween and Christmas decorations – you name it, it's there.
Oh, they also have chicken supplies like egg cartons and feed but that's for the pros. I'm here for the out-of the ordinary stuff.
As admission is not charged for the Congress, I always buy raffle tickets to support the cause. This year I purchased $10 worth of tickets and I ended up winning 3 separate auctions.
Among the things I won were:
That pile of toys mentioned above. I had wanted one toy in the pile and so I took it and gave the toys to the first little kid I saw in the audience. This pile also included a baby monitor which I kept to give to a friend.
Kitchen supplies including a vintage elephant pitcher, enormous amounts of fake-display vegetables, a shelf, chicken decorations, books, and an electric mixer. Most of this stuff has already been sent to Savers with the exception of the fake vegetables which has been delivered to a local preschool.
An entire pile of classics – Mark Twain, Hemingway – the kinds of books that everything thinks they should get to someday and I will read them…someday.
While it certainly was fun winning, (who doesn't like to be a winner?) it was even more fun finding homes for the things I won with the exception of this little guy who is going to be living in my office right near Fatti-Madi from now on.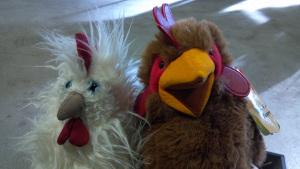 Any suggestions of a name for our newest addition?
***

See you next week.
*
As always, happy weekend everyone, health and happiness (and safety) to your flock.
*
Tell you what, if you want that chicken and egg garland at the top of the page, leave a comment and I'll choose a random person on Monday.
Why not spread the chicken love, right?