Chickens are flock animals. Working together ensures their survival. It's actually a pretty amazing thing to watch, if a threat is perceived, they band together to fight as one. A mighty creature made from many. Through the many, anything can be endured.
And while a few may wander off during the day, temptations of grass and shiny bugs calling to them, eventually all chickens return home at night.
During the cold winters, they huddle together creating survival needed warmth. From each other, they are able to live, to sustain. Arguments made during the day are forgotten in the stillness of evening.
At the end of the day, they are whole, a flock once more. There for each other.
Which makes it all that more painful when a member leaves for good.
This weekend we lost, yet another member of our flock. Our good, old dog: Digger and while we all knew that his time had come (he was deaf, blind, had constant seizures and couldn't walk anymore) it still tore our hearts in two.
There's an empty spot in the roost, a feeling of coldness that hasn't yet been filled, a sense of balance lost. A member gone.
The only way to never feel this kind of pain again, I told my kids, is to never reach out to another, to never embrace others as members of your flock.
Oh, what a sad and lonely life that would be.
On the day that Digger died, we took the kids to Concord, our state's capital. We walked around the town reading historical signs and looked in the shop windows pretending we had enough spare cash in our pockets to buy what we saw.
When the sun started setting, we headed on home. To a house a little more empty than before. A home not the same.
As night fell, we gathered downstairs and watched a movie. It didn't even matter that it was a bad movie, we were all together and when someone invariably let a tear slip out, a sniffle not quiet enough escape, it was okay. We all understood.
When the movie was over, we kissed and hugged each other and headed to our beds knowing that even though a member was missing, we still had each other to be there for us, to keep us warm in the darkness of night.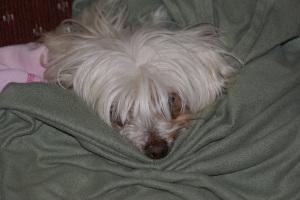 What a good boy.