It's not often that you are going to hear someone gush about breakfast but fasten your seatbelts because breakfast on Day 3 of our vacation was OUT OF THIS WORLD.
I had mentioned earlier that the airbnb apartment we rented was on the third floor of a building. The first floor consisted of tiny shops and restaurants that opened out to the narrow street.
Two doors over from our entrance was a pastry shop. And by pastry, I'm not talking the doughnut and muffin trays of plenty that we find in American coffee shops (Dunkin Donuts, I'm looking at you.) This shop actually made their own pastry confections and sandwiches and each cup of coffee was made to order carefully prepared by the coffee servers behind the counter.
Being lactose intolerant, I usually don't have milk with my coffee, but years ago when I was in Paris, I learned what a café au lait was. I've never looked back.
Café au lait is French for coffee with milk HOWEVER, being the innovative French that they are, they don't just use any milk, they use *steamed* milk. You end up getting a cup of coffee covered with frothy milky goodness. (although some like it with sugar, it's certainly tasty enough to drink it straight up.)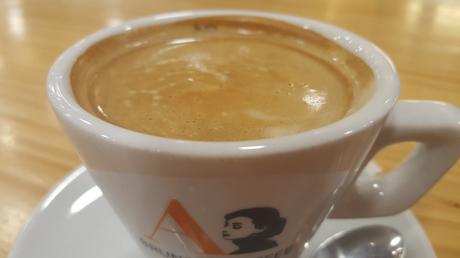 One perfect cup of perfection.
And of course, if you're going to have an excellent cup of coffee, you might as well pair it with an outstanding pastry.
Behold the chocolate croissant. Artful, flaky (not even a distant cousin to the limp microwaved ones we get in the U.S.) and filled with a deep satisfying rich, smooth, and not over sweet chocolate.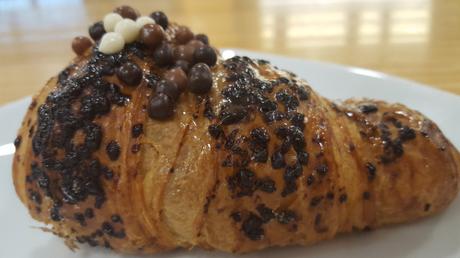 And it's legal to have these for breakfast!!
Every single day if you want.
If you had only listened to the soundtrack and didn't know what we were doing, one might think that another activity other than eating a chocolate pastry and drinking coffee was being performed.
"Oh, ah, ah, my God this is good."
As we sat in the tiny pastry/coffee shop, we watched as people stopped in for their breakfast. Some wore the uniform of tourists, some professional clothes, and some wore the clothes of those who were going to spend their day doing manual work. All equal in the eyes of a bit of pastry and a cup of coffee – a time to connect with yourself and others in the morning.
***
Wendy Thomas writes about the lessons learned while raising children and chickens in New Hampshire. Contact her at [email protected]
Also, join me on Facebook to find out more about the flock (children and chickens) and see some pretty funny chicken jokes, photos of tiny houses, and even a recipe or two.

Like what you read here? Consider subscribing to this blog so that you'll never miss a post. And feel free to share with those who may need a little chicken love.