In the words of my kids, I really need to take a "chill pill."* So what's got me so worked up?
The first two days of our Border to Border New Hampshire walk.
Although it's likely that we'll be dropping some weight along the way, we'll be starting at our heaviest on the days when we'll be walking the most.
22 miles for the first day, 26 for the second.
Not only that but we'll be using packs that are at their heaviest (supplies will be fresh, unnecessary items won't have been dropped yet.)
What we're talking about is a lot of weight on feet and joints that are um, problematic to begin with. And we're asking our bodies to carry this extra weight for a long distance.
Yup, I'm worried. I'm making list after list of what to bring and then crossing off what we *may* not need. A lot of what I'm packing is "just in case" stuff, because that's what moms genetically do. We pack extra pairs of clothing in case someone spills something. We pack extra diapers for babies in case there's a blow-out. We *always* pack more snacks than could ever be eaten because, well you know, a hungry child, even a potentially hungry child is just not a pretty sight.
And how can I survive 14 days without books and fun things? Granted I don't need to carry 5 books but what if I finish one before I can pick up another? I mean, it could happen, right?
So I'm running around doing research on the internet and talking to as many people as I can. Someone this weekend told me to attach bells to our pack in order to alert bears of our presence. I don't know if it works but walking around New Hampshire sounding like Santa's sleigh tickles me enough to do it. Put bells on the shopping list.
And then there's my son. "How's the packing coming along, Griffin?"
"No worries mom, not worried about my pack or the distance at all. It will all be fine."
"You're not worried about the distance?"
"Nope."
Ah to be young again.
In the meantime, excuse me, I'm off to get those anti-bear bells for our packs.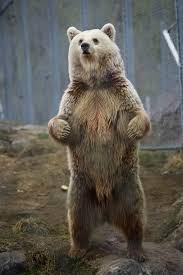 Wikipedia
****
*Not really related to this post other than the writing "chill pill" made me think of this. 
There's a popular song playing right now by Mike Posner with the starting lyrics of "I took a pill and a beeza."
"What's a Bezza?" I asked my daughter. "Is it a new names for drugs? Is it what he calls beer?" 
There aren't too many times I get *that* look from her. This was one of those times. 
"Mom, it's a place as in – "I took a pill *in* Ibiza" she said rolling her eyes at how clueless moms can sometimes be.
Once I stopped laughing, I decided that that term should become a permanent part of our sometimes unique house language. 
"Hey, could you go grab me a beeza?" 
***
Wendy Thomas writes about the lessons learned while raising children and chickens in New Hampshire. Contact her at [email protected]
Also, join me on Facebook to find out more about the flock (children and chickens) and see some pretty funny chicken jokes, photos of tiny houses, and even a recipe or two.

Like what you read here? Consider subscribing to this blog so that you'll never miss a post. And feel free to share with those who may need a little chicken love.