I've been going on (and on) about Pokemon Go lately, but there's a reason. Marc and I spent a good portion of the weekend outside. Walking. Sometimes with our kids, sometimes by ourselves cruising around catching pokemon and having a good time.
At one point we went to Concord, NH where I was able to snap this photo. Pokemon Go is giving us all a common language. I've said it before and I'll say it again. Pokemon Go might be our best bet for World Peace.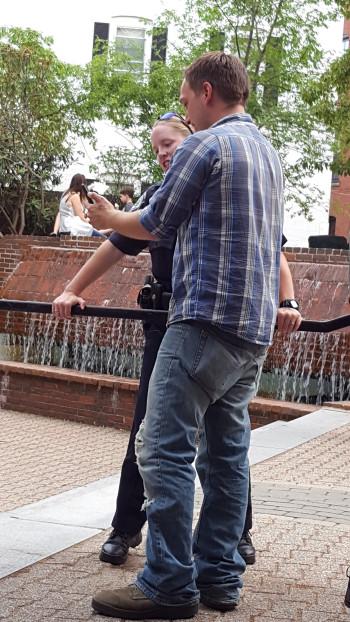 The next day when I was walking with my kids in Nashua, we passed an older gentleman sitting on a bench.
"You catching those Pokemon?" He asked us.
I told him we were, and then because he seemed confused, I explained the game to him.
"In fact, there's a pokemon next to you right now," I said and I took a photo to show him.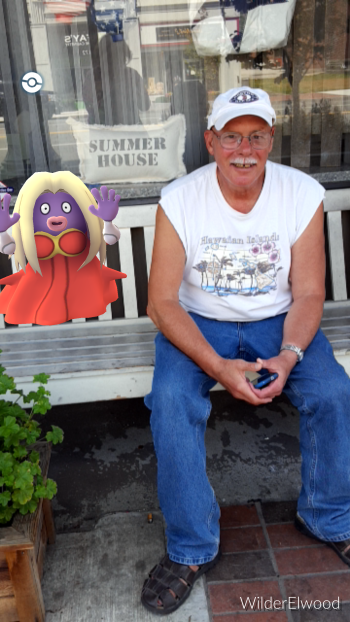 "That's right next to me? Right here on this bench, right here?!!" He laughed. We laughed with him and bid him a good day.
See what I mean? As far as I can tell there is only one down side to this game.
My 23 year old son wants to report me to Child Services because since the game hit, I haven't prepared a family sit-down dinner, been too busy catching wild pokemon. As a result, he's had to prepare his own food for the last two weeks.
He's learning how to cook.
On second thought, that might just be another fantastic benefit of this wonderful game.
***
Wendy Thomas writes about the lessons learned while raising children and chickens in New Hampshire. Contact her at [email protected]
Also, join me on Facebook to find out more about the flock (children and chickens) and see some pretty funny chicken jokes, photos of tiny houses, and even a recipe or two.

Like what you read here? Consider subscribing to this blog so that you'll never miss a post. And feel free to share with those who may need a little chicken love.